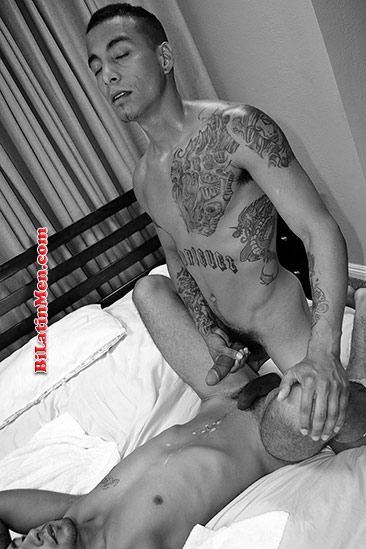 Hey guys. I'm back. I wrote the stories: An Old Crush, A Night Of Drunken Sex, Restroom Hookup, His First Webcam Blowjob, & My Nightly Surprise. Check em out if you want. Anyways this one happened to me a week ago.
So I have this neighbor, Arturo. We have been fucking with each other for a while now but, recently we lost touch due to the fact that he ain't got a phone anymore. Anyways he hit me up a week ago and asked me if I wanted to give him head. Before I get into what happened, let me describe him. He's 19, 5'10", brown eyes, short black hair, nice six pack body, and a thick 8 inch dick.
Back to the story, he hit me up asking if I wanted to give him head. I was like, "Yeah sure, gimme a second."
So I got up from bed. Let me remind u, it's like 3 in the morning. So I was out. I put some perfume on cuz im girly like that. Made sure everything was on point, and I text him back, "Come over."
He was like, "On my way."
I opened my window cuz im ghetto like that and cuz I aint opening the door at no 3 in the morning. I saw him walking towards my house. So I put some jams on and just laid in bed.
He came in thru the window, and I got up from bed. He gave me a hug and I could feel his dick up against my leg. He sat down and I dropped to my knees. Taking off his b-ball shorts and his boxers. Exposing that thick uncut 8 inch dick and it smelled so manly and good.
I started stroking him and licking the tip. Mmmm his dick tasted so good. I stuck the head in my mouth and sucked it and making the popping noise as I took it out. I was gonna cherish his dick for as long as I had him. Licking the side and gliding my tongue down his dick to his balls and sucking on both of them. Mmmm sucking on both at the same time.
I glided my tongue back up his dick, sucking his dick so good. I had him moaning and making sex faces. He looked fucking sexy as he bit his lip. I was stroking him when he told me, "Let me get up. I wanna face fuck you."
So I moved out of his way and he stood up. I remained on my knees and was stroking him. I started sucking him, and he jammed that dick down my throat, making me gag the first time. After three pumps I relaxed and was taking his dick down my throat like a fucking pro. Mmmm I was moaning as it was going in and out of my mouth. He held onto my head for support as his hips thrusted.
After a while he was like, "Let me fuck you."
I was all for it. I got up on the bed and bent over. He spit on his dick and rammed me. Fuck, I let out a moan from that thick dick. Fucking me hard. Making me moan every time he went in deep.
He smacked my ass and went harder, this time with one leg on the bed. He got deep in me. He pulled my hair, making me moan and slamming every inch of that dick. Fuck, I was all wet.
He flipped me and got me missionary. Fuck, my bed hitting the wall with every pump. Mmmm he leaned over while he was fucking me and made out with me. I held him there with my hands on the back of his head. I whispered, "Let me ride you, daddy." So he pulled out and laid down on my bed.
I got on top of him and slid that dick in me. Mmmm my body shivered from the pleasure. I started riding him, bouncing my ass on his dick. I got into it and started scratching his chest. He let out a moan from it. Mmmm I leaned back and put my hand on the edge of the bed. I held myself in the position and rode him like a bull. Mmmm with him deep in me I took it. I was riding him faster when I felt his body start tensing up and he said, "Mmmm babe, I'm about to cum."
So I kept on bouncing my ass on his dick, and I felt five shots of his warm manly hood blast in me. As soon as that happened, I tensed up and shot my own load on his chest.
Fuck, that was some bomb ass sex. He had me wanting more, but sadly he had to go. So I got off him and cleaned him as he put on his clothes and left.
I laid there and got my dildo out and went for round two. But I'll save that for later.
Hope you liked it. Hit me up at my email. aaron_rodriguez_23@yahoo.com