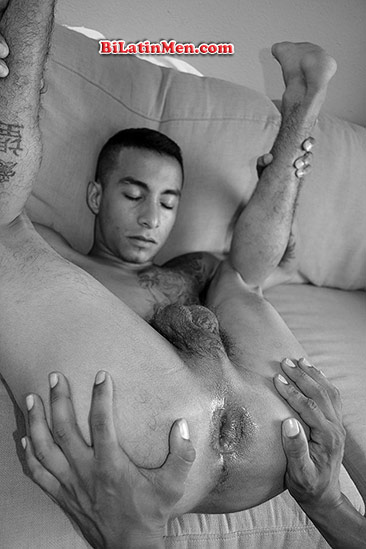 Loyal fan of nakedpapis. Here is the story of el compa and I.
I stay in the OC (Orange Country). I'm Mex, Btm, 30 yrs old, 6 ft, a lil cub.
One day I was horny as fuck, and I went ahead and posted an ad on the chat room. Then this manly homie hit me up. We will call him El Compa. He was a lil nervous when we spoke over the phone. He asked what I was looking for. I said, "I wanna suck dick and get fucked."
He responded, "Firme. I'm down."
So I had to go pick up this homie at his pad. I was like, "Whatever, as long as I get some, it's all good."
I picked him up. He was not bad looking, mex homie, 5'8", 7 inch fat dick.
So we came back to my pad. This foo took out a pipe and we started smoking. I was like, Whatever works. So we smoked out and then the fun began. I started to suck his fat dick and damn did it wake up in a sec. I was like, "Dammit, this shit is good."
So I continued sucking that fat verga. Then he asked me to eat out his ass. So I started to do it. This foo got all horny and shit.
Suddenly he turned around doggy style, and I started fucking him. Damn, El Compa knew how to handle, pushing his ass back on me, and moaning in a masculine way and breathing hard.
I fucked him on the side for a while. But the way I like to fuck is when they ride my dick. El compa went ahead and jumped on my verga and started riding it like a pro. I had a huge boner, just thinking about how masculine this foo was and how good he could take my dick.
So we were going at it for a while. He told me he didn't like kissing or touching. I didn't care bc I was in heaven.
Oh yeah, I forgot to tell you, we were fucking bareback which was bomb. I felt my dick stretching that tight ass. That feelin was amazing. So el Compa just took it, riding it like a champ. This foo did not complain or anything. He was just going up and down my dick.
I busted a huuuuuuge nut inside his ass. The homie got all mad and shit. But I couldn't hold it no more.
After that night el Compa came every night to kick it. I guess he liked how I handled that gangster ass of his. The next time I fucked him even harder and longer so he could get whipped on this cock.
After being a slutty Btm, I became a versatile top. The things we do for a good piece of ass. That's my story bro.
If you're in the OC, hit me up juanbtm80@gmail.com