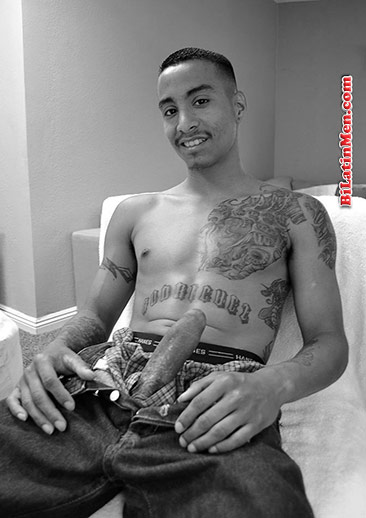 I am a 40 year old stocky white daddy type guy, 6'2" tall, who likes a nice younger Latino to play with at my house or in the car. My friend Andy had recently graduated from high school. He was 5'7" about 135 pounds with a 6.5 inch straight and uncut dick.
So I met this guy on the chat lines, and we were going to hang out near his house. So I picked him up and we went to South Mountain. We were at the top of the mountain when he told me he was horny and wanted to suck some dick.
He kissed me. So I put up a front windshield cover, and I put the seat back, and he started rubbing my 7.5 cut thick inch dick. The next thing I knew he had the button off and the zipper down, and he was going all the way down on my cock with his mouth.
For only being 19 years old, he really knew how to suck it. He sucked me all the way down, deep throating me, so that his lips were buried in my pubic hair. He made these really sexy gagging sounds, so while he did that I pushed his shaved head down, so that my dick went even deeper into his throat. His eyes and nose were runny from the fucking good blow job he was giving me. He kept sucking it like he was desperate for cock, and like he loved it.
So after about 15 minutes, I was ready to nut and he didn't lose even one drop of it. He was so close that he laid back and shot his own load all over his chest and stomach. We decided that we should get going before the ranger came by, so we drove off.
A month or two later we had hooked up several times at my
Place, and he asked me if his cousin could come over and hang out at my place. So I told him, "Sure," and we all came back to my place.
We were watching some TV, and Andy said, "Let's watch some porn," so I put a bisexual DVD on and we were relaxing when his cousin Chad (who had just turned 18) seemed like we was getting turned on.
So Andy told Chad, "Why don't you give my friend some head?"
At first Chad seemed like he was not really comfortable with his cousin in the room, but then he really got into giving me a great deep wet blow job. Then the two cousins started to take turns sucking my cock. Andy was more into deep throating me while massaging my balls, while Chad gave a softer blow job and focused more on my cock head while rubbing my chest and my legs. I didn't know which blow job to prefer, but loved that they kept switching back and forth, cock starved for my dick, licking every inch of my dick.
When I came, I shot into Chad's mouth since it was his first time he sucked my cock, I wanted to have a taste of my cum since Andy had already tasted my cum. Chad swallowed my cum, then I pushed my dick all the way into his throat while I pushed his head down into my dick so I can give him his first lessons in deep throating.
Those two were the first cousins I had met, and they both sucked me dry. These two cousins were a great pair who had a lot of fun. Maybe we can talk about when they turned into bottoms the next time!

(Please DO NOT publish my email.)