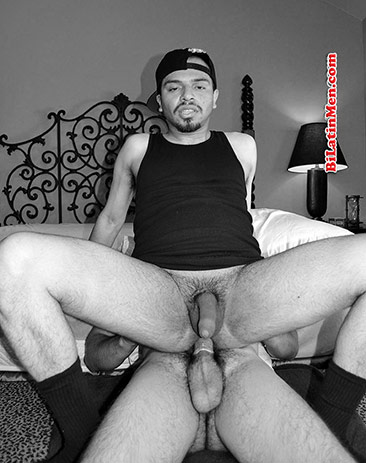 For those who don't know, I wrote the story "2 on 1" a while back.
I'm Jay, a bi blatino, 6'1", 200 lbs., 8.5 inch dick and a phat bubble butt.
Anyway, this story is about me and Roberto. He got locked up a week after our threesome, but he called and wrote me letters, saying he missed me.
So his girl broke up with him, and he said he got a surprise for me when he gets out.
The night he got out, I went to pick him up. He got in and we started kissing. We headed to my place. He got in the shower and I got in with him. I started rubbing his back and my dick was so hard.
I was rubbing his hard body. He turned around. I felt his hands on my back, then they sli down on my ass, cuffing it in his hands, grabbing it.
I was kissing his chest, then his abs, then I started giving him the best head he had ever had. I was deepthoating his dick and licking his balls. He moaned, saying, "I missed your mouth and ass."
So we stepped out of the shower still wet. We just headed to the room. He laid me on my back and started sucking my dick witch felt good as fuck. He lifted my legs up and started eating out my ass. He ate my asshole for a long time, then he went inside my culo raw. I usually don't fuck raw, but it was my Roberto so I left him fuck me without a condom.
So he started going slow. For a while his body went into auto pilot, fucking me like I was the only person on earth. So after an hour he told me he was about to bust. I said, "Bust, daddy."
He busted all in me.
Afterwards we talked and cuddled. So it was around like four in the morning, and I started feeling him eating out my ass again. I woke up and said, "Ricardo, what you doing?"
He said, "I'm horny, baby."
That's when he fucked me again. My ass was hurting from the first time he fucked me, so I just took it like a man while he fucked me doggy style, and after a while of him drilling deep inside of me and fucking me like an angry man, he busted deep inside of my asshole, and I busted right after.
We woke up at twelve in the afternoon. He finally told me his surprise. He asked if I would like to be his boyfriend, so I said YES, so I'm finally happy. I love that man.