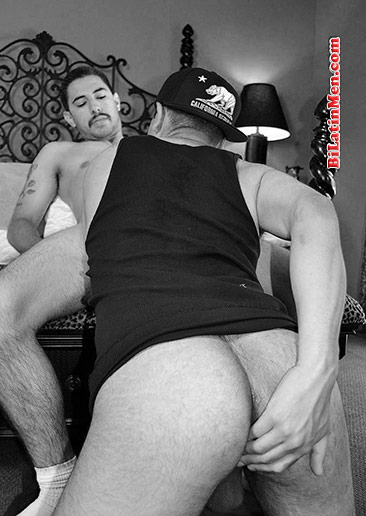 So this happened yesterday. I am a fem white guy who works at a straight Latin club. When I was leaving work, I saw some cute Latin boy walking, so I stopped and asked him if he needed a ride.
It was raining so he got in. He was about 6 ft tall. Let's call him Fernando. So as soon as he got in the car, his phone rang and it was his girl. Him and his girl were fighting, so he had nowhere to go. It was 3 am.
So I asked him if he wanted to go to my house and kick it for a while. He said he was down, so we went to my house which is like 20 min from where I work, so I had time to see if he was gonna let me get at that dick.
I asked him if he would let me suck him, and he said he had never let a dude suck his dick but he would see what would happen. So we got to my house, and we had a beer. He wanted to roll a blunt, but all I had was a bong that was my old boyfriend's. So he packed it, and while he got high, I unzipped his pants, and damn this big thick uncut cock popped out, and I went down on it. So he was 19 years old, 6 ft, 150 lbs.,
and black hair with some area code tatted on his neck. He was mean looking, but when you got past that, he was cool. So I started to worship his mean huge dick. I took out his big dick out of his boxers, and he just pushed my head down on it. It smelled so good. I was just sucking and sucking his huge cock like a whore in heat. He was liking it so much, and then he said, "Fuck it, let's go all the way."
He wanted to fuck, so I got some lube and a condom, and then had him push his dick in. Damn, I was in pain, and he just keep pushing it in and did not stop for like 15 min.
Then he pulled it out and stuck it in my face and busted in my mouth. I licked every drop of it. Then we went to sleep. I got woken up in the morning with him fucking me again. He fucked me hard.
It felt so good. I was so happy thinking I could have this fine thug with the huge dick fucking me. He called me today to see if he could stay the night, so let's see what happens.