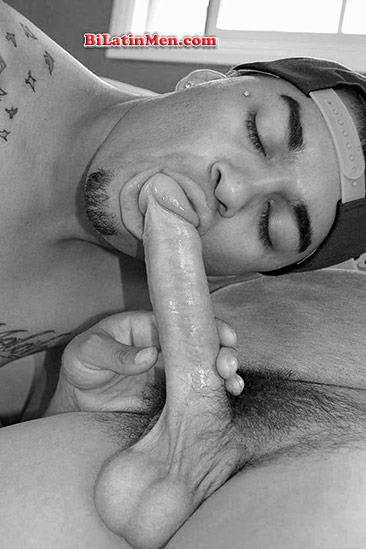 I'm 20, 5'9", 150 lbs., Moreno, 7.5 inches cut. This guy was about 5'7", 8 uncut, 160 lbs., Argentinean.

I was horny and wanted my first experience. I was on Craigslist in LA, and I saw this erotic massage post. And the pics of these uncut cocks. He was all the way in Glendale, and I needed a massage.
So he gave me the address. I showed up. I remember being so nervous as I knocked on the door. He unlocked. He said , "Come up."

He had long hair and a nice body, not as toned as me, but a good size. He had on a robe with black silk briefs. I remember telling myself, This is ur first experience.
He asked me to take off my clothes. I did. I laid on the massage table and saw him taking off his clothes. He had a thick accent. My Spanish is ok so that didn't matter much.
He rubbed the oil on me and climbed on my back and massaged me. I could feel his naked body on me, and I just remember it felt good. His pito was rubbing against me, getting stiff.
Then he stood up, propped his pito on the massage table as he was walking, rubbing my back and I was curious, so I grabbed his hard pito. He said, "Try it."
I said, "No, it's my 1st time ,that's too much."
Then he asked again, and I thought, When's the next time I will be able to taste an uncut Argentenian cock?"
So I dove head first. And I took all 8 inches of his thick uncut cock down. The pre-cum tasted bitter. I nibbled on his foreskin, and he face fucked me a lil.
Then he reached over, grabbed my dick and started sucking me. He said, "U got a nice cock. You're big and thick."
His dick was in my face. We 69'ed. Then he said, "Turn over."
He started eating my ass hole out, and sucking my toes. He ate me so good. It started to hurt cuz he was tounge fucking me. I tried not to say anything. I guess I was too tight. He wanted me to top him, but I wasn't ready.
We 69'ed some more, and I rimmed his tight asshole, and sucked his cock. And then finally I said, "I'm bout to come."
He raised his head and let me shoot straight down his throat. He took every shot of my 5 shots of cum.
Right after, he said, "U never forget ur first. U will remember this always."
I thanked him, got dressed and then got paranoid. I went straight to the clinic. They said I was fine, but I was scared of HIV. He reassured me he was clean, and he wanted to see me again.
Five months have passed since then, but I have been thinkin bout it. I got knowledge about it, how to protect myself. And I thought hooking up with guys would be a one time thing lol it wasn't.
If u like what u heard or ur in the LA area, email me.