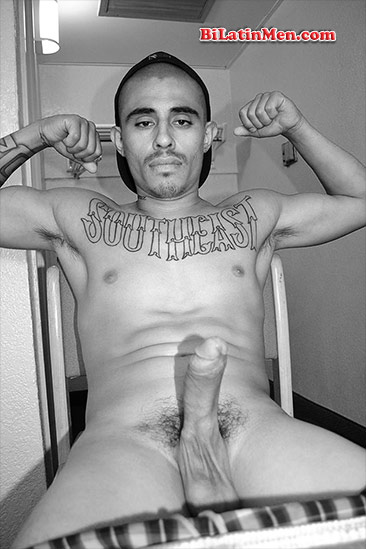 Here is another story that happened before my cousin and I messed around.
I was on a dating app one day around noon, just bored. All of a sudden, some cute Latino guy hits me up and says, "LET'S FUCK." I was shocked at first and didn't believe him. I told him I was down, and he gave me the address to his job.
A brief description about him: he was about 5'10", light skinned Mexican. About 150 lbs. 19 yrs. I was 22 at the time.
Well, when I arrived to his job I texted and told him I was downstairs. He came down and opened the door and took me through some stairs into a restroom. He told me too take my clothes off while he went to clock out for lunch.
When he came bac,k he rushed to me and took his pants off and told me too suck on his dick. His junk was 8" and thick and uncut with low hanging balls. He smelled good and junk was really manly and bushy.
I remember sucking and looking at him; I could see a face of satisfaction. Since he was so cute, I tried to suck him as best of possible, deep throating him until my eyes were watery. The more I sucked him, the hungrier I got. It was one of the best dicks I ever had. Sometimes to rest my throat muscles, I jacked him off real fast with my hand while wetting his dick head with the tip of my dick. This only made me hungrier for his cock, and then I would go back to deep throating him.
After sucking him at least 10 minutes, he said he wanted to bust a nut, but before he wanted to fuck me. I bent over a desk that was in the restroom. When I bent over, I heard him say, "Dang boy, you got a big ass."
As soon as he said that, he shoved his dick in. It was painful but so good and thick, stretching my asshole good. I don't remember the last time I got fucked that good. He was going slow, fast, and deep. I could feel pre cum coming out of his dick. Then he said, "I about to cum," and he came inside my ass with cum leaking out of my asshole and down my legs.
We cleaned up, and I left.
He texted me later on in the day, saying thank you and that we should meet up soon. We did meet up a couple times after that, but now I lost contact with him. :(
Well, I hope you enjoy my story.
It doesn't have to be anonymous.