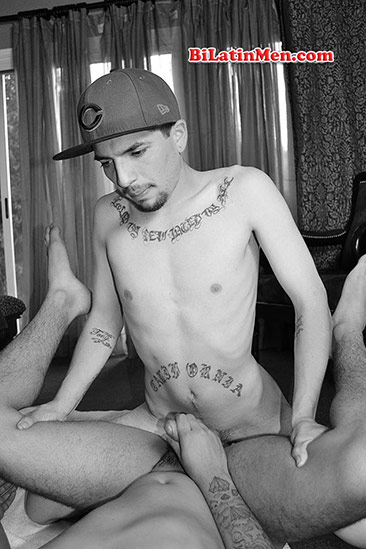 Hey this is Roberto again. Like I've said before, I'm 5'10", brown hair & eyes, and I have a big bubble butt. So it all started when my step brother decided to come and play videos games with me. As time passed by, it got late, so he decided to sleep over.
I slept on my bed, and he slept on the floor with a couple of blankets. Throughout the years, when he had slept over, he ended up in my bed, and I gave him a massage, but that was it. Te then would go back to the floor after I massaged him. This night I was super horny. It was around 1 am when he came up to my bed for the massage.
Btw my step brother is about 5'5" and brown hair & eyes, flat stomach. He came up to my bed, and I had just gotten some oil so the massage can be even sexier. I had always used lotion, but this time I told him I have this oil.
I said, "Wanna try it?" and he said, Yes. He was wearing a t-shit and red basketball shorts. He took his shirt off and socks off and just left his shorts on. I poured the oil on his back. It felt so good to be touching him with the oil. It made it so much more sexual.
As I was massaging his lower back, I asked If I could go lower. To my surprise he said, Yes. I started going lower just above his crack. I stopped and asked, Lower?! I couldn't believe my ears. He said, YES! I got working on his ass. He has a small but sexy ass! I then got the idea to put my finger in his ass. I shoved my finger in his asshole. It felt so good. It was sooo tight! Once I put it in, he freaked out and said, WTF dude stop! And he pulled his shorts up. I was scared, so I just said, Sorry.
He was now on his back, and each time I gave him a massage, when he turned around he had a hard on. This time, he had a boner even bigger than the other times. His thick dick was pressing out against his shorts. I knew he was horny as fuck cause that dick was popping a huge tent in his shorts. I told him, "Let me do something to you, you'll like it." He asked, "What?!" I then went under the cover, and I took his shorts off to his knees. He let me take his shorts off, and his dick was fucking hard as fuck and real hairy too.
I then started sucking on his hard dick, enjoying the stiff thick hardness in my mouth. I had wanted to suck him for so long. His dick was all smooth in my mouth from my saliva. As I started to suck him, he said, "WTF are you gay?" But I didn't stop. I ignored him.
At first he stiffened his body like he wasn't sure that he wanted me to suck him, and after he started liking it cause he started fucking my face! I made sure I sucked him the best I could, so that he would enjoy it and let me suck him in the future. I deep throated him.
I went fast. I went slow. I licked his balls. I worshipped his cock to make sure I made him happy so he will want it again. He had a little freak out cause he wanted to cum and he didnt know what to do, he didn't know where to cum.
I told him, "Cum in my mouth!" Just as I finished saying that, I felt a big load in my mouth. I got up from the covers and asked him, "You got a condom?" He said, "No, why?!" I told him, "So you can fuck me!" He said, "Nah dude, that's enough. Let's go to sleep."
I wished I've gotten fucked by him, but we just fell asleep, and in the morning we pretended nothing happened. (share my email)