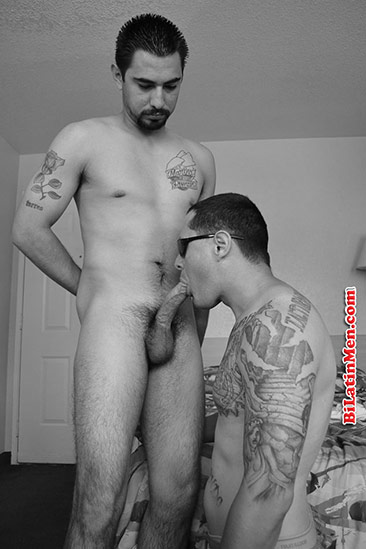 Hey it me, Armando! Gotta tell ya bout this one! Well, last night me & my homie Carlos went out to the club dtwn, lookin to score some party favors. It's a gay club, best one here in the Los Angeles.
So we're hanging out, having a couple of drinks, waiting for our boy to show up out on the patio, smoking. Then this skinny papi walks out to the patio with a chick and lights up a cig.
I'm a couple tables away, but I'm like, Damn he looks familiar. So I do a double take, and I realize it's one of my co workers from the job & I tell my friend I'm with, "Hey, that's one of my co workers. WTF is he doing here? He's straight or at least I thought so."
My friend says, "Oh he's he probably here trying to score some favors also."
So at the time I just shined it on, didn't say anything to him. Well, about 10 mins later our friend hadn't showed up, so we started looking for other connects there, and I run into my co worker in the process.
I say hello and like, What the hell was he doing here?
He tells me, "Oh hey, I'm just here with my girl, trying to have some fun," and he introduces me to his girl.
I say, "I'm with my friend."
We all chat a few mins and what not. Then he grabs my arm and says, "Let me holler at you for a min," and tells his girl,
"I'll be back in a few," and gives her a big ole kiss and tells me,
"Walk with me man." So I do. We go into the bathroom, and I thought he just wanted to talk, but he immediately goes into the stall and tells me,
"Come on man, let me talk to ya." So as soon as I get in the stall with him, he says,
"Hey man, don't be telling anyone at work you seen me here and yada yada yada."
He says, "The reason I'm here is to make some money," as he's telling me this, he pulls out the favors and throws me a bump of some crazy stuff and ask if I like it and I'm like, "Hell yea!" Then he says, "Well, you really gonna like this."
He whips out his semi hard cock about 7 inches uncut and says, "Suck me off real quick," and I'm like, "No man, you got your girl out there." He just starts shaking it at me and says, "Don't worry. She thinks I'm doing business in here. It's cool."
I'm feeling the bump and like hell yea, so I just go down on him and start sucking that uncut cock like there was no tomorrow. Within a minute or so, he starts moaning and saying, "Yea, I knew you was a good cocksucker. Boy, take it all baby," and he pushed it all down my throat, grabbed my head and face fucked me for less than a minute.
He started gushing that sweet cum down my throat, a fucking huge load & I swallowed it all while he was moaning. Then he snatched his big cock outta my mouth and said, "Hey, we're cool, but don't say anything to anyone."
He put his cock away and then came out with some more favors. We did em and then he tells me, "That was fuckin hot, and I'mma think about you tonight while I'm fuckin my girl."
And he kissed me and walked out. This all happened within 5-7 min. It was quick and fast and fuckin hot.
I will have to see him at work tonight. We'll see how that's gonna play out. Details later. Don't know if you will be able to publish this one, but had to post it anyway. I love Los Angeles!