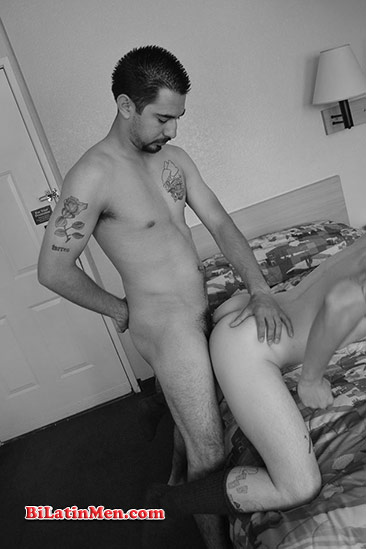 Email me if you like what you read, happy jacking!
After a long and hard day at work, all I wanted to do was get my ass home and RELAX. I opened the door, Ren was already home, so I yelled hello and stormed straight towards the bedroom. I walked in and shut the door behind me, feeling choked by the professional clothes I had been wearing all day. I slipped off my tie, unbuttoned my shirt and kicked off my shoes all at once.
As I went to undo my belt buckle, I felt that urge, but quickly pushed the thought to the back of my head. I knew I wouldn't be getting any tonight. We had a small fight that escalated, and my punishment would be no hugs, no kisses, and definitely no sex.
I proceeded to take off my slacks, and what a relief because my big but was being squeezed by the waistband. Now I was down to my chonies, and ready to shower off my stress.
I walked down the hall, practically naked, feeling on big ball sack and getting ready to strip down completely. I turned on the faucet to the hottest hot and waited for the water to warm up. Meanwhile, I started touching my big dick, holding it and rubbing it, feeling it grow towards its full potential. It was thick in my palm, and the water was nice and steamy. I opened the shower door and decided how I was going to relieve this stressful day.
The hot water hit my back and warmed my whole body, working down my neck, showering my shoulders, and sliding onto my culo, giving me a sense of calm. I was still swinging my fat balls around and edging my cock by sliding both hands up and down the shaft. I could feel my precum lubricate the head of my 7 inch verga when the baño door opened.
Ren walked in, not saying a word. I could see through the opaque glass that he was stripping down, and despite the lack of clarity I could tell his big brown pito was hard and his fat bubble but was sticking out.
The door slid open, and he gave me that look, starting with eye contact and working his way down my horny, wet body, to my cock, licked his lips and then stepped into the shower. Without any noise but the shower door sliding closed, he got down on his knees and buried his face into my balls, licking and rubbing all over my manhood like it was his deepest desire. I grabbed the back of his head, streaming my fingers through his thick Latino hair and lightly slapped him with my cock across his cheek. He started getting more aggressive and made a real effort to slide my whole verga down his warm and wet throat, but he choked about 5 and a half inches in.
He continued playing with my dick, rubbing my balls and sucking the precum out as much as he could before I pulled him by his hair off my cock, and pushed for him to turn around in the shower. Now the hot water was streaming over my shoulder and on to his back, his big ass rubbing tight against my dick. He was getting more horny by the second, and he reached back to grab my throbbing wet cock and shove it deep into his culo. He moaned a little bit, feeling the head penetrate into his ass. He moaned louder as it forced its way inside but he pushed back, as if he could stop himself from getting my whole big cock inside. He quickly picked up a good rhythm and would make even more noise when I slammed my fat pito further and faster inside him.
Our encounter quickly changed from quiet to loud as I began to moan too. My verga was swelling up inside of him, with every stroke I fucked his tight culo he would moan louder and I would love it. I started talking dirty, telling him to call me daddy, and making him scream my name while I pounded his fat ass. Things started getting serious when he screamed he was gonna cum!
He hadn't even touched his cock before his moan intensified, and I could see big streams of semen shoot towards the shower wall. He kept grinding his ass on my cock and begged me to cum inside of him. I made him beg more, and I slapped his big Mexican ass before my swollen white dick busted all up inside him.
He leaned back into me, I pulled out, and he turned around and gave me a kiss. He said, "Sorry about last night."
I looked him deep in his eyes and replied, "Apology accepted, babe."
I hopped out of the shower, changed, and finally felt stress-free.