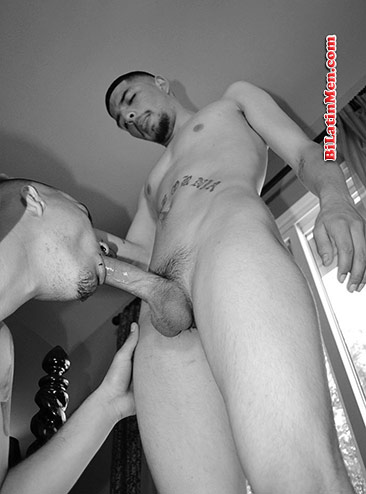 What's up all you Sexy papis. This story took place a year ago in Denver Colorado. I'm a light skin Mexican. I stand 6ft, 220lbs, Brown hair, green eyes, 6 cut, 26 years old stocky football players build. I'm Verse, so I'm always down to play with a top or bottom.
So I was on an app on my phone, just checking things out. I got a message from a guy. On his profile it said Latin DL Thug as his name. It didn't have a pic. His stats were: 28 years old, 5'10", 175 lbs. His massage went like this: Looking? Into? Can u host?
I was like: What's up, might be and into anything fun and safe, and ya and got a pic?
He sent a pic of his dick and that shit looked too good to be true. It was 9 in uncut and thick. He said he was into anything as well. Then he sent a face pic. He had a fade and tan and sexy. Again he looked too good to be true.
So we agreed on him coming over to my place to chill and see where things go. So as I got ready for (Jose) to get there, I was getting nervous. I didn't hook up at my place that often, and Jose looked too sexy to be real, but he assured me that that was him.
So I heard a light knock at my front door, so I looked out the window to see a car in front of my house. I braced myself as I opened the door. There was Jose. Looked even sexier in person.
So he came in, sat on the couch and told me to come sit next to him. I went over to where he was, and he told me he was nervous too. He didn't hook up often since he was only bi and still on the DL. I ensured him that his secret was safe with me. He said he hit me up cuz I was sexy and he liked light skinned Mexicans. So we talked and just got to know each other.
Jose made the first move and started to kiss me. I couldn't help but to start touching his body. I grabbed him by his hand and led him into my bedroom. We started to make out and ran my hands under his shirt, feeling his six pack abs. I started to undress him. I took off his shirt. He kicked off his shoes and took off his stocks. (He has sexy feet too, I have a foot fetish to).
So I unbuttoned his pants to see them drop to the floor. He only had boxers on. He started to kiss me and undid my pants and lifted my shirt over my head. I started to see his dick grow.
So I told him, Let's get cleaned up before we have fun. So we when into the bathroom. I took off my underwear and turned on the shower. I got in the shower, and he took off his boxers, and out came a semi hard big uncut dick. He came in the shower.
We kissed under the water, and our naked bodies rubbed against each other. I got the bar soap and started to clean his uncut dick. As I got down on my knees, I took as much of his fat cock as I could in my mouth but he was too thick and big for me to go all the way in.
After a good few mins, he pulled me up and picked up the bar soap to clean my dick and ass. I could feel his dick against my ass cheeks, then one of his finger started to use the soap as lube for him to stick it up and finger fuck me. I was moaning loud and that was turning him on. So he tells me, Let's go to the bed.
So we get out of the shower and dry off. He got on the bed and told me he wants me to take control and ride him. I pulled out a condom (which was a magnum) out of my night stand with a bottle of lube, and I put the condom on him and lubed him and me up.
At first it hurt with just the head in. I took a deep breath and took more and more until it was all the way in. I wanted to go slow until it stopped hurting. As I got use to this big monster in me, I started to go fast riding him. He picked me up and flipped me on my back, put my legs up on his shoulders and went to town on my ass. I've never been fucked so good and hard before.
He was getting so turned on by my moaning. He put me on my side and was holding me and kissing me and fucking me so hard that I screamed out that I was going to cum, and he started to pound me so hard I shot all over without even touching myself.
As I finished cumming, he pulled out, pulled off the condom and came all on me.
Afterwards we just laid there naked, him holding me and trying to catch our breath. He kissed me and said I was the best ass he ever had. I told him he was the best dick I ever had. We laid in each other's arms and love juices until we went to sleep.
We woke up in the morning and did it all over again.
If you like my story and want to hear more about my experiences with Jose, just email me.