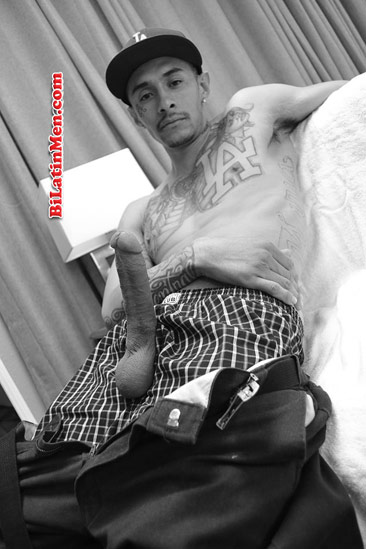 My name is Jay. I'm 6'1", 200, 26, blatino. This just happend two days ago.
I got a homeboy who I buy that kush from. I asked him to come over and let's match, but he said he got his cousin with him. I said, It's coo, he can come threw too.
So they came over. My homeboy Ricky is 6'3", 187, light skin rican build and got a 8.5 inch uncut dick. His cuz Ricardo is 5'11", 190, light skin, long braids, rican.
So we were straight blowing, house filled with smoke. So his cuz went to the bathroom, and me and my homie still smoking, so he randomly, out the blue, said, "I'm horny as fuck."
I said, "Are you?"
He said, "Yeah, my girl been playing games with me, no head, no ass, nothing. Fuck, I'm horny."
So I looked out of the corner of my eye. I saw him rubbing his dick. Then his cuz came back where we at. So my boy blunt out asked if I could give him and his cuz some head.
I got on my knees quick. I started sucking my boy's big thick uncut dick. His cuz pulled his dick out, and it was fucking big as a bitch 10.5. I was like, Damn!
So I gave him some head. I deep throated the hell out of that big dick. My boy got behind me and started to take my shorts off and started playing with my ass. He spit on it, then started to eat my ass and licked it as if it was a pussy.
Meanwhile I was still sucking his cuz's monster dick and sagging balls. Then he turned around and told me to eat his hairy rican ass. I did. I loved it.
He started smacking his dick on my ass while he was kissing my back and neck. He said, "Can you take it?"
I said, "Yeah."
So he went in and start fucking me like a bitch, smacking my ass, being aggressive, calling me his bitch. So 20 minutes passed by and he fucked me like a mad man, he fucked me like I owed him money, really hard and fast.
Finally he busted a fat nut in my ass. He stayed in there for a few more minutes. Then his cuz with the huge cock wanted to fuck me, so I said, "I don't know if i can take it."

He said, "You gotta take it bitch."

I said, "Okay but don't hurt me."
He went in slow with the lube from his cuz's nut in me still dripping from my open asshole. The head of his dick went in slowly, then he forced the rest all the way in. I screamed loud.
The he started tearing my ass up. He said, "This is what I like: a bitch boy with a tight ass."
He put his hand around my neck, chocking me hard. He flipped me on my back, my legs over his shoulders. I saw his built body covered in sweat, his face was sweaty too. He leaned down and he was kissing me and biting my neck. His Rican dick felt so fucking good, spreading my asshole so wide. I forgot about the pain.
My homeboy got hard again and shoved his dick down my throat. I was gagging on a cock, and taking a big dick up my asshole at the same time.
An hour and a half went by, and ricardo said he was about to bust a fat one. Before I knew it, he shot a big load up my asshole. It was so much nut that there was a puddle on my floor.
Then Ricky busted down my throat. He got some sweet tasty nut. Finally Ricardo made me cum by keeping his still hard cock inside my asshole.
After we were done, we sat down, still undressed on my couch. I was sitting between these big Rican dicks. We started smoking again.
Then they left, but Ricardo called me today and he said he wants some more head and ass. I said, "My ass still hurts" lol
He said, "I know how to make it feel better."

So he's on his way. I love straight Rican thugs to make me their bitch, and I got two of them to use me up LATER