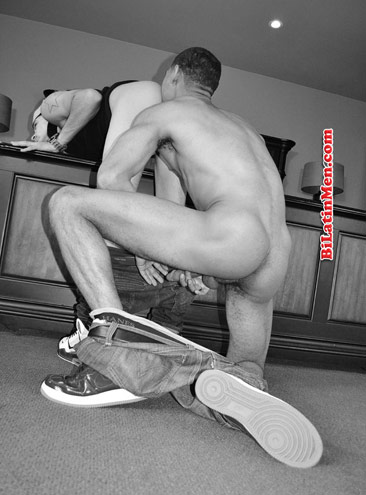 This is my story.
I am Julio and 24 yrs old, Latino from Los Angeles, CA. This happened last year for Christmas when I went over to El Salvador for vacation. I am 5'9", about 210 lbs. and a big ass.
It was Christmas Eve, and my cousins and I wanted to drink. So we went to the store and bought drinks. When we got home we started drinking. My cousin was 20 yrs. old and about 5'8", nice tan complexion, and have a 8 inch cock uncut. And he is bisexual.
Well, as drinking went on, I started looking at him and joking around. It was about 2 am when we stopped drinking. And we went to bed. My cousin and I slept in the same bed. So I thought to myself: I am going to make a move tonight.
So that is what I did. While we were laying in bed, I started reaching over his dick and rubbing it. I could feel it growing in my hand. I was being careful not to make noise and wake up the other people in the house. I know he knew I was touching him because he was lightly pushing his dick into my hand.
I pulled down his boxers and began to suck on his dick. By this time he sat up in bed. I was deep throating him, and I was watching him gasp. He pressed my head down against his dick, and he was face fucking me. He was moaning far more, and we went one for like 10 minutes.
After that he busted in my mouth. I felt his load down my throat and I swallowed all of it. As soon as we finished, he was trying to go back to sleep, and I said Merry Christmas.