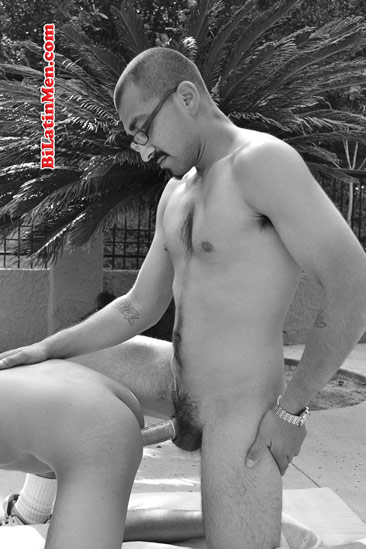 This happened a year ago, and I decided to share after reading some of these stories... very hot, may I add.
So I'm a 33 bi DL Chicano from Chicago burbs. I'm 5'10" 198 lbs, footballer, built, 7 uncut.
I was bored browsing a hookup site, and I came upon this 39 DL Mexican, so we started chatting and decided to hook up at a motel. So a couple days later I told my lady I was going to "study." I was in school at the time. ;)
He arrived at the motel first. He texted me the code # for hotel room door, and told me to just come in. I was f@#$ nervous, not knowing what to expect n shit.
I walked in and gave a shout out so he knew I was in. He had a hot Latino voice and was like, "In here."
He was in the bedroom, watching a MMA show. It was dark as hell, so I couldn't see him good, but what I could see, I liked a lot. I went to clean up quickly!
I got out of my clothes, put boxer briefs on, walked out to the bed n stood next to him. He immediately got on his knees on the bed n started to deep kiss me...I grabbed his bulto (bulge in Spanish)...I was like, Damn...it was huge...
He said in a quiet masc. voice, "U want my Verga?"
I was like, "Hell yeah!"
I was rubbing on his bulto and pulled I it out of his boxers...there was lots of pre-cum already. He laid back and I went right at his dick. It was about 7.5 thick, had a curve to it and uncut...so hot!
So I stayed on his jock for a while...once in a while he'd bend down and deep kiss me while I sucked him, getting a taste of his own cum!
He made me lay down on my stomach, and he rimmed me like I never felt before...He was all up in dat man ass...We kept at it for about 30 mins of us going down on each other...rimming...sucking from head to toes...
He told me to get on my knees...I listened...he stood on the bed over my asshole and began to slide his rock hard verga in me. I moaned like a bitch cause the curve in his dick stretched my hole to the max...my ass ring felt like a rubber band that was going to break.
I did get used to him as my tight hole relaxed. He fucked me for at least 30 mins in various positions, froggie, doggie, missionary. I was filled stupid!
Then he pulled me off the bed, bending me over and told me, "Grab my ankles."
He cam pounding me like dat. It was hard to stay standing because he was pounding me so hard, I thought he was going to knock me over, but it felt so good beause that man abuse. When he came inside my ass, I thought I was going to pass out, but I got my breath and steadied myself while my heart was beating a thousand miles an hour.
At the end, we were both sweaty... my ass ached...lol
So I finally got a look at his bod n face when we walked into the bathroom... he was pelon...masc. hairy...bout 5'8"...nice verga...
Stay tuned...when I tell you the other encounters and when I found out he was a doctor!!!!