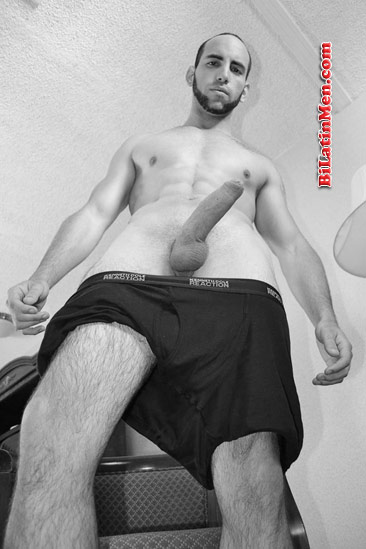 Hi, my name is Alex, 28 yr old Puerto Rican from the bronx NYC, light skin, 5 ft 6 inches, and about 145 lbs., a few tattoos and a piercing.
One day I was hanging out with my homeboy at a park. We decided to smoke close to the water. It was in the back of the park where you have to climb over a gate just to get there. We sat by the rocks and started burning it down. My homeboy didn't smoke as much as I did. He was into his sports, and I was into turning straight boys out and he's about to find out lol
So we sat there and smoked. We talked about swimming across the waters and silly shit like that. I then told him, "Hold on," and I pulled my dick out and start pissing in the water.
He did the same, taking his dick out to piss, and we were kinda like crossing each other's piss stream.
I then tried to confront him by saying, "Hey, you mad nice. I like your style and I want to chill on the low with you.
He then wrinkled this face and asked me, "What you mean?"
I kinda got nervous cause I did not know how he would react, but I went on to tell him, "I want you to grab and stroke my dick."
I had my dick in my hand, pulling the foreskin back on my 9 and a half uncut dick. He looked around. There was no one where we at, so he said, "Damn, I didn't know you were gay."
I said, "I'm not gay, this is just for now. We are kinda experimenting. I mentioned
He looked back again to make sure no one was looking, but he was moving closer to me. He then reached for my dick and started stroking it. I kinda leaned against a rock while he sat on one rock, jerking my dick with his left hand and stroking his own dick with his right hand.
I then asked him, "You wanna try and put it in your mouth?"
He said, "That's a bit much."
I said, "Just try it quick. If you don't like it, just stop."
He looked at me and said, "You better not tell anyone," and started to spit in his hand and wiped it on the head of my dick. He then put a little of the head in his mouth.
By this time I was super horny, ready to fuck his face, but I had to have patience, especially dealing with these straight boys.
He then wrapped his lips around the head. Now I could lock him in, I thought to myself, and I gently held the back of his head in so that he couldn't move off my dick in case he wanted to stop.
I told him, "Damn ,your mouth feels good," and I start to stroke my big dick in and out of his mouth. At times I would go in deep, and I could feel his hand press against my stomach to prevent me from going in too deep. Every time I shoved my dick deeper in his throat, his eyes would get watery, and his face turned red.
I then told him to play with my balls while my dick was in his mouth. I was just there having a good time. I could feel that I was gonna cum soon. He then wanted to stop for a bit.
I tell him, "Hold on, I'm about to cum."
I could tell he wanted to leave already, but I told myself, Ima cum first.
I told him, "Just suck it quick, just two more minutes."
He looked at me and said, "Sure."
I then put my dick back in his mouth and told him, "Jerk it while the head is in your mouth."
I had him like a slave by the waters, following my commands. He grabbed my dick and put it in his mouth , sucking on the head. He then started to jerk it in his mouth.
I was loving it. I could see his spit sliding down my dick, making it look shiny while the sun hit it. I then started the feeling of cumming. First thing I do is grab his head again, so he couldn't move. His eyes were tearing up again which only turned me on more, seeing him all red in the face, wanting to leave just turned me on more. That's what I love about turning out these straight boys, knowing that my big dick is too much for them to handle.
I then started to cum. His eyes opened wide. I was shooting my nutt in his mouth, a lot of cum dripping off to the sides of his mouth.
I was stroking my dick, cumming in his mouth and his hand was on my dick, kinda holding me back from going in too deep. I then finished cumming and I left a huge puddle of cum inside his mouth.
He spit out a huge glob of cum from his mouth and told me he had to go. I stood there a little while longer to smoke and to enjoy what had just happened.
Damn, I love those straight boys lmfao