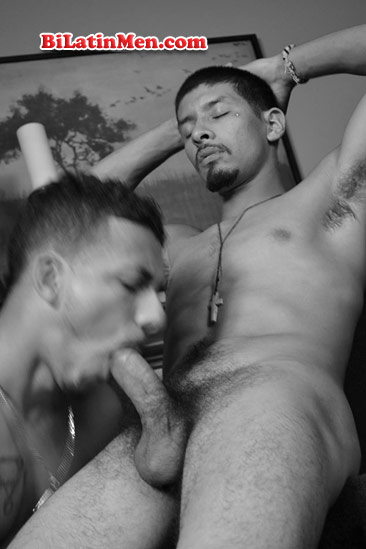 So this is about my first gay experience. It started about 6 months ago at work.
A little about myself: I'm 5'4", light skinned Mexican and Spanish, a lil thick with a nice fat ass ha ha, and my coworker he is about 6', lean and kind of muscular, a dark skinned straight gangster.
It was a normal work night with just me and another employee at my job. He would always get high at work cuz he said it made him work better ha ha.
Well, I was in the walk-in freezer, getting something, when he came in all high, and me kinda horny wanting to try something with this sexy ass thug. So I kind of brushed against him, my hand hitting his thigh and he smiled a little. So I bent over right in front of him and put my ass right on his crotch ha ha.
And then he laughed and said, "Did you feel it?"
And me like a dumbass said, "Feel what?" Ha ha, and he told me he had a boner, and my inner slut told me to take it further lol.
So I told him, "Really? Can I see?"
So he unbuttoned his pants and unzipped and whipped it out. And let me tell you that shit was like 9 inches.
"Can I touch it?" I asked him and he nodded with a smile.
So I reached over and grabbed it and stroked it lightly, and a drop of precum appeared on the fat head lol.
So again I took it a little further and got down on my knees and looked up at him and swallowed his meat. Licking up and down his thick shaft before I went down and sucked on his balls. He let out a loud ass moan when I sucked his heavy balls.
I went back up and wrapped my lips around the head and took it down, seeing how far I could go. I took more of it down, surprising myself, taking the whole damn thing. He moans louder, pushing my head down, grinding my nose into his pubes lol.
I went up and down faster and faster, lightly tickling his balls, taking the whole hard thing on my down stroke. I felt his legs tighten, and he pushed my head down even harder as he came so fuckin' hard, so forceful that I feel it hit the back of my throat hard.
I swallowed every drop just to have him fill my mouth again. I did't let one drop fall as I cleaned off his dick, sucking it for a few more minutes, then he told me "Fuck that was the best head I've ever gotten."
I wasn't about to tell him that was my first time lol. I sucked him twice more before we left that night, and maaanny more times, but that's a story for another time ;)