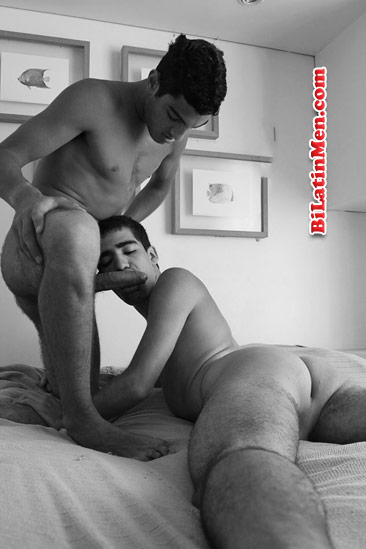 This is my first time telling people about this story, but hopefully you like it. Well, my name is Omar. I am 19, light skin, 5'11", medium built with a 8 inch fat dick. The other guy is known by Jay.
It all started off last year while I was at the gym. I was happy that there were barely any people there. I was doing my usual, lifting weights and that's when I saw this fine ass papi walking toward me. In my mind, all I was thinking of was how sexy he was. He was about 21, 5'10", light skin with blue eyes and a very nice looking body. Even though he had a shirt on, you could tell his body had to be ripped.
To my surprise, he started lifting weights right next to me in the mirror. As he was bending down to get a different set of weights, I started checking him out before he noticed. He had a perfect round ass that I just wanted to tear apart. When he got back up, I played it off like I was looking down at the floor still lifting.
About an hour later, I decided I should go shower and leave. When I was in the shower, all I kept thinking about was that fine ass papi, so I start to imagine me fucking him while I jerked off. Then I heard someone walking in the locker rooms, so I had to stop before I got caught.
Finally, I finished showering and grabbed the towel to dry up. As I was walking to my locker, THERE HE WAS! Standing next to my locker with only a towel. In my head all I could say was, "Papi I want you right now!"
This is when I got an idea to see if he was into men. So I took off my towel, with my semi hard dick still standing up there. I played it off like I was looking for my briefs in the locker, but I kept my eye on him. I noticed him looking at my dick and his dick was growing too under his towel. I knew this was it, I'm getting him tonight. I told him, "First time here? I never seen you before. You have a nice body!"
Jay said, "Thank you, you're sexy as fuck!"
My heart started racing, and my dick started growing even more. The next thing he said was even better, "Looks like u need help with that. Maybe I can help you if you're down?"
I didn't even think about it at all. I went straight toward him and started kissing on his neck while he was stroking my dick and moaning so fucking sexy.
Then he started kissing on my neck, making me get chills all down my legs. Jay started teasing my dick head by licking it very slow while looking into my eyes. I was in full ecstasy!
Finally, he started going down on my full 8 in dick without gagging, using his tongue to lick my nuts while he deep throated. I couldn't believe how good this fine ass papi was.
After a good 10 mins of him doing that, he took it out of his mouth to put spit on his hand. Jay put two spit-covered fingers up his own ass and started finger fucking his asshole while he continued sucking my dick. The whole entire scene of him sucking my dick so good while fingering himself made me just bust huge load into his mouth. I thought he was going to spit it out like everyone else always does, but he didn't. He swallowed every last drop and continued sucking my dick and fingering himself until he came without jerking off!!! When he finished, I told him, "Let's shower together."
He told me, "By the way, I'm Jay!"
After showering, we both got dressed, exchanged numbers and went our separate ways. Until later that night when I texted him. But that will be another story ;)