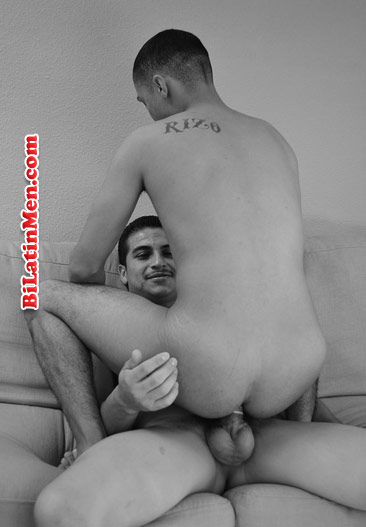 Well When I Was In College, I Was Openly Gay & I Was Very Much Of A Wild Man. Guys Used To Hit On Me For Me Being Gay Or Whatever. But There Was Always This One Guy Named David. He was 22 years old. He Was A Latin Papi With Swag, Short Hair, Brown Eyes & Was A Gang Member Of Some Sort.
Usually When Straight Guys Flirted With Me They Would Eventually Ask Me To Give Them Head Or What Not. But This Guy Used To Grab My Ass, Call Me Bitch, Which Turned Me On, But He Never Would Give Me Dick.
So One Day I Told My Best Friend That This Gangster Guy Would Grab My Ass. Well Supposedly My Best Friend & David Found Out.
One Day, I Was At The Bus Stop & My Friend Told Me She Told This Girl & This Girl Told David & They Said He Wanted To Fight Me. So I Was Like, Since He Wanted To Fight Me, We Could Have Fought On The Bus, So We Got To Arguing On the Bus & Etc Then The Bus Driver Kicked Me Off.
When We Were Off the Bus, David Said, "You Know I Was Acting Right?"
I Told Him, "Why Were You Acting!?"
He Told Me He Wanted To Ask Me, "Do YOu Wanna Suck My Dick?"
So I Told Him, "Hmm, I Have To Think About It."
So 3 Weeks Later I Made Up My Mind & I Gave Him The Code To My Alarm To Come In My House Since.
He Came In My Room. He Kissed Me & Touched Me & Grabbed My Ass & Just Was Being Romantic. I Asked Him, "Do You Have Any Condoms?"
He Didn't So We Went Raw! I Pulled His Pants Down & I Pulled Off His Boxers & His Dick Was So Hard, It Popped In My Face. I Started Sucking It & I Was So Happy. I Sucked His Cock For A Long Time.
He Still Didn't Cum, So He Decided To Fuck Me. He Grabbed My Neck & Fucked The Shit Out Of Me. We Fucked For Like 60 Minutes With His Hard Uncut Cock!
I Was Riding His Cock So Much, He Went Way Deep Inside Me! He Kept Asking Me Whose Bitch I Was & Whore & Slut!
When It Came For Him To Cum, He Busted All Over My Face. I Swallowed His Huge Load! After We Finished, He Told Me He Had A Girlfriend. I Was Pissed & Laughing At The Same Time.
After That We Would Have Sex Almost Every Month, But Then He Left The State & Moved To New York.
But This Year I Was On This Gay Hookup App & This Guy Messaged Me & It Turned Out It Was Him. So We Met Up & Talked & Stuff, & Then We Had Sex A Week Ago.