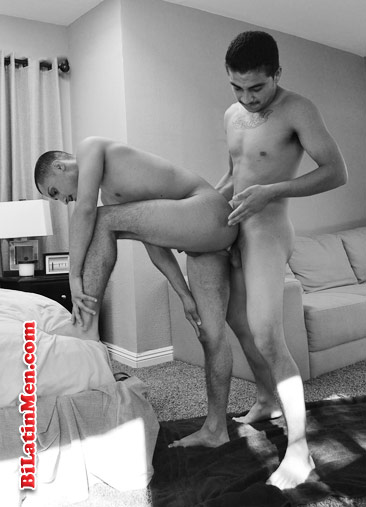 well, what's good y'all.? first off i wanna say thank you too all the papis who emailed me and let me know that they loved my story "our little secret".....well its me El Caballero, and im back to tell y'all about another story that recently took place. im just gonna change the names to protect the not so innocent in this story ;)
well, just to give you a little reminder of me: I'm 21 yrs old half mexican and half native and i have waist length hair, 5'10, 135 pounds, grey eyes, pierced lip, big ass, vaquero, slim and trim, bi, and a very good bottom ;) lol
well anyways I recently moved back to texas to save money on schooling, and so i wouldn't have to stay in the dorms. so i called up one of my cousins and picked him up in my truck so we could go to Houston to get away from the country and just to chill for awhile.
well we spent all day shopping, and then we went out to eat at some pizza joint where i saw this fine ass guy sitting with his homies in the booth a few tables away. he kept looking up at me and smiled when my gaze would catch his. this went on for awhile until me and mi primo were about to head out and leave, when he told me that he had to go to the bathroom and that i should wait for him.
well i went outside to smoke a cigarette when out of no where, the guy who played eye tag with me, came outside too and asked if i had a lighter. well since i didn't know if he was bi, gay or straight yet, i was butching it up a bit and said, "oh yeah, here you go bro," and he laughed and said, "you're cute." which i laughed at because he kind of knew that i was trying to act straight and we made some small talk. we'll call him Jairo.
he kind of looks like that model Supreme from Bilatinmen.com but a bit taller and more muscular, 24, dresses like a swag guy, cute face, wide chest, and a big 10.5 dick (which i found out about later on)
well Jairo told me that he was in town for a night out, but that he was gonna be alone since his boys were going home. well to flirt with him and to get more of a better reading on him, i said with a smirk, "oh damn it, thats too bad...we're going to go clubbing later on tonite, but im not sure if you'll be able to handle it haha."
which he immediately responded, "well i guess we'll have to see about that huh.?"
"damn" i thought to myself, "I'm a pro at getting guys...maybe im a slut LOL."
well mi primo came outside and Jairo jumped in with us. Since i knew Jairo understood spanish, my cousin asked me in our native American language, "you're trying to get laid tonite, aren't you?"
and i just laughed and said "of course fool.!! this bitch needs a good dick down!" which made him laugh, and Jairo asked what we were saying, but then my cousin said "nuthin bro." and he started bullshittin with him....
well since i didn't know Houston too good, we all went to my hotel, where i changed and then we went to Jairo's apartment so he could get a little bit spruced up for the club, and when he walked out i was like "damn!! papi looks fine."
Jairo had on some camo shorts, jordans, a snapback, a tool tank, and a nice looking hollister jacket...now i dont dress like that so i had on some sporty clothes like basketball trunks, jordans, my snap back, and a shirt from aeroposale on and i fixed my hair nice and tight....
we pulled up to some club and walked in together. then went straight to the bar where Jairo ordered a cosmo. I looked at him with a funny look and he laughed and said "what foo.? they taste good.!!"
i just said, "oralé foo, even i dont like that shit.!!" and i ordered myself two shots to loosen up...
well we got to dancin and drinkin, and i got a bit faded, because soon i was flirting with Jairo & dancing dirty on him and completely forgot about my cousin who was with us haha but then when that song "nobody" by kieth sweat started playing, i got really nasty on him....i was grinding, arching my back, and feelin up on Jairos huge bulge in his shorts... he responded by grabbing my waist and giving me a a hot kiss and ass grab ;) aiii papi it was hott.!! Lol
when the song finished i found my cousin and told him that me and Jairo were going to go back to his apartment, but if he couldnt find a ride that i would just stay and party with him, but he said "haha its okay cuz, you go have fun. i'll take a cab to the hotel."
and i was like "omg you're the best cuz.!!" and i kissed his cheek then i grabbed Jairo's hand and lead him to my truck where i made him drive since i was a little more faded then he was....
while he was driving, i decided to sneak my hand over and massage his dick too get him hard....he was like "dayum baby that feels bomb." And rolled his head back...
so then i started massaging it slower and stroking it, just to make him even harder haha he didnt even wanna wait until we got home, he pulled over underneath an overpass and started making out with me and pulling me closer by my waist...
i got my hand under his shirt and then started feeling his chest and nipples....he leaned the seat back and i sat on his lap and started dry humping on his semi hard dick while making out with him...he got his shirt off and then took mine off too.....damn his cologne smelled good.....like a spicy, latin musk that made my dick hard...
his moaning when i would push my ass down on his crotch area made me even hornier so i unzipped his shorts, fished out his dick and went down on that shit.....omg it was huge, and when i deep throated it and he thrust his cock in further, i gagged & he squirmed around in lust....i wanted it to get hot and steamy in that truck so i moved him to the back seat (i have a king cab dodge ram so there's a lot of room in there) so he could lay down and i could suck him off even better...
i pulled up his foreskin and stuck my tongue inside his foreskin, which is pierced also. i had my pierce tongue in between the head and the skin, and swirled my tongue stud around which made him erupt in pre-cum which only made me more eager to do better...he said "damn rico, you suck better dick than those hynas," and sighed with ecstasy...
he said he wanted to repay the favor and told me to lay on my stomach...then he started to eat my ass...damn boys, i was squirming and moaning, damn, it was hot....he said he loved my pussy and asked if he could fuck it, to which i answered by just grabbing his dick and sticking it in me....
he yelled out "agh shit baby, you got a sweet ass, oh fuck, it's tight imma have to fuck you silly.!!"
he started off slowly in the doggy style position, picked up his speed and then got a good pace going...he leaned over on my back while fucking me and kissed me....the feeling of our two bodies rubbing against one another, all sweaty and tight, was fuckin bomb....
he put me in the spoon position while his dick was still buried deep inside me, and he fucked me like a bunny fast, and made me moan and beg for more..."ayyy papi, violame.!! cojeme mi culo.!!" i yelled out.... (oh daddy, violate me, fuck my ass).
i looked up at my windows and saw how fogged up they were, so i reached toward it and made a handprint ;) lmao....
damn boys, i want you to imagine this with all your senses....listen to the sound of his grunting and his balls slapping me, the sight of the stars and the street light thru my foggy windows, the taste of the cosmo and budweiser he was drinkin while he kissed me and our tongues embraced...the smell of sex in the air, his cologne, and both of our musks mixed together was intoxicating...and the feeling of his thick hard angry verga sliding in and out of my stretched wet ass going slow and sweet, then fast and steady...
the entire time we were fucking i was in heaven....my eyes were rolled back and i was moaning like a bitch begging for more....i felt his balls slap me harder, his body tighten up, his pace getting faster, and his grunting getting louder and louder, so i said "i wanna eat your leche papi." and looked up at him begging with my eyes like "give it too me daddy."....
he said "uhh, lay down baby, imma nut.!!" and then i felt 7 loads of hot cum in my mouth and on my chin & my face....i sucked his dick to get every drop of cum out and he jumped since his dick was still sensitive....
he wiped up the rest of the cum on his finger and made me lick it off, which i did, then I licked my lips, and swallowed every drop of it....by that point we were both completely played out from sex, so he made me lay on top of him while our dicks touched, and catch our breath....
i took him home and thanked him for the fun, and i went back to my hotel...i walked in and saw my cousin watching tv, lookin at me like "you dirty slut" and he laughed, but i went to bed that night with a big smile on my face and a sore ass haha ;)
well that's all for now boys....i hope you liked my story and until next time, deuces...El Caballero.