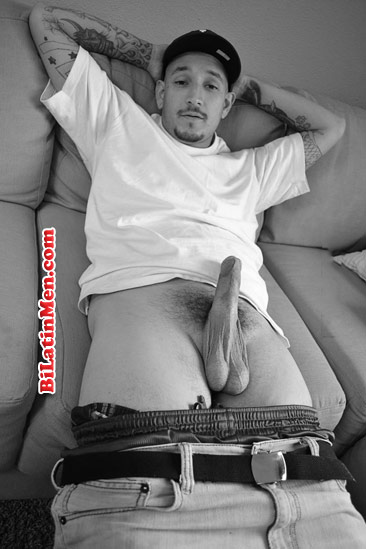 Hi, this is Mark from Bronx ny, 5ft 7, 145lbs light skin Puerto Rican, big 9 inch uncut dick.
So I went over to my uncle's get together a few months ago. It was a crazy day.
First when I got there, I could see my uncle talking to my brother when I walked into the kitchen where they were at. My brother told me, "Come with me for a min," so we walked towards my uncle's bedroom.
My brother told me, "Hey Mark, we got this guy here in the bedroom that me and uncle have been fucking for some time now, and we wanted know if you wanted to fuck him while a couple of us watch."
I laughed and said, "Who's a couple of us?"
He said, "Just me, uncle, and two of his friends."
I could tell they were kinda like amping it up, plus I know my uncle likes to brag about my cock to his friends. I told my brother, "Yea, let's do this."
He then said, "Hold on, don't go in yet."
He ran back to the kitchen to get my uncle. They got back together, and my uncle told me, "You ready?"
I said, "Yeah."
He said, come to the bathroom so I followed him there. He game me this Tarzan outfit lol it was just a piece of torn cloth with leopard stripes that covered half the body. My whole right side of my body and lower were exposed. I come out the bathroom, and my bro and uncle were outside the door. My uncle said, "Nice, looks good."
I told him, "It's thin and uncomfortable."
He said, "I'm talking about your dick."
We both laughed. So now were walking towards the room. My uncle opened the door. There were 3 guys inside.
One of them was naked and getting his ass licked by the two guys in the room. We went in. My brother locked the door, and my uncle said, "This is my other nephew, the one I told you about."
And my brother said, "Yea, we are the fuck bros."
My uncle then said, "Mark, we want to see you fuck this guy."
The guy was ok looking, nice ass, good complexion. The only thing was that he was like 6ft tall, his legs were probably as long as my whole body, but that did not stop me and my big cock.
My uncle had chairs surrounding the bed. They all sat on them: my bro, uncle, and two of my uncles friends. The guy who I was gonna fuck was on his knees in the bed. My uncle then said, "Let's get this started while I still have guests."
I jumped on the bed. The naked dude took my socks off. I stayed standing. My dick started to get hard. I could see everyone that was on the chairs with their dicks out, slowly jerking off.
I then told him, "Taste it."
Without hesitation, he grabbed my dick and put it right in his mouth. My brother got up off the chair and told the guy, "Deep throat that dick," and started pushing the guy's head down, making my dick go deeper and deeper into the guy's throat.
Then my bro told him, "Show us his wet dick."
He pulled my dick out of his mouth. My dick was rock hard and shiny wet. I could see my uncle and brother get turned on cause they grabbed their dicks and jerked them off pretty hard.
Then I heard my uncle's friends say, "That's hot."
My uncle then replied, "I told he had a nice dick." My uncle then said, "Mark, put your dick in his ass."
My brother was there, telling the naked dude, "Spread that ass so everyone can see."
He got on doggy with his legs spread out. My brother squeezed KY on the guy's ass and sat down, excited as if he was in the theatre. I pulled the foreskin back from the head of my 9inch uncut and rubbed the head at the tip of his ass. I then slip it in suddenly and quickly. The guy grunted like he was hit by something big. I went in deep and left it in there, so he could get used to it.
Everyone was jerking off, making me more hype as I was the center of attention. I then began to penetrate in and out. I started lovin it. The asshole was squeezing down on my hard pinga. The ass felt good.
I got my bro and uncle cheering me on and jerking off, watching me fuck. And I was inside him with no rubbers. The ass was feeling great, and I could see the bottom was enjoying it also cause his little dick was rock hard dripping pre cum.
I could hear my bro saying, "Yea, give him that good dick, make him remember."
So I put my hands on his side, pulling him deeper to my dick. He grunted like a bitch in pain. I let my dick come out for a quick sec, kinda to tease my uncle and brother. My dick was super hard and wet. I put it back in and started ramming it.
I knew I was close to cuming, so I asked him, "Where you want this nutt?"
He told me to milk it in his ass. That was a good response because after he said that I came supa hard inside his ass. My uncle came too from jerking off. My uncle's cum shot right next to us in the bed.
My brother told me, "Don't pull out yet," and jumped on the bed to put his dick in the guy's mouth and started to face fuck him. I continue to penetrate the abused asshole so my dick wouldn't die.
Then my bro came in his mouth and jumps off the bed, swinging his fat dick and saying, "Fuck bros, remember that shit. Come on Mark, let's go wash up."