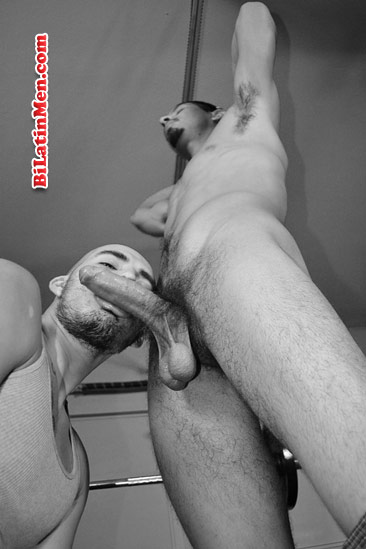 Well hey, I'm jay. I'm from Nor Cali. I'm Puerto Rican and Dominican. And I'm 19 yo. I'm really DL and am verse but kinda like bttm more, but anyway this happened about 9 months ago.
I had been on this hook up site for a while with no luck. Just a whole bunch endless emails and texts.
Well, one night I met this dude who was near me and sexy af so I gave him my number to text me. We texted for a couple hours and started sending nudes. This dude was fine. Let's call him Rico.
Let me describe him. He was bout 5'8", 140, muscular, cut body, yet on the slim side. And his cock omg his cock! 7 inches uncut and thick and caramel brown mmmm yummy! Plus, he was my major turn on.... he was Latino and a thug! Mmmm
So we texted, but we found out we were stull kinda far from each other :/. So we stopped texting for a few days.
Couple days later I was in his area at a fast food restaurant! I texted him and told him to come fuck this juicy ass! Or at least meet me! He hesitated, but in the end gave in and told me he was on his way!
So bout ten minutes later, I saw him walking up to the restaurant. I got up and made my way straight to the restroom. By now he was following me into the restroom. We got in, and he was sexier in person! Baggy sweats, long white tee snapback and a growing buldge mmm sexy thug he was!
He grabbed my ass as soon as we got inside the restroom. We started making out while stumbling into the restroom stall. We get in and I heared his voice for the first time! He told me in a deep masculine voice, "Mmm u gonna suck papi's cock?"
I shook my head Yes and dropped to my knees! He whipped out that glorious thick papi cock. I started sucking it immediately!
I slobbed all on it and starting on the head and going down bout half way down. But as soon as I got half way down, he let out a moan that you wouldn't believe! That just made me hornier! I was sucking fast and hard. He grabbed the back of my head and thrusted deep, making me gag. I went deeper, and he squirmed with pleasure!
He pushed me off from our sex grip when someone walked in! They came in, washed their hands and left. Then he walked over to the toilet and told me to continue sucking, so I did for another five minutes til he finally said he was gonna bust. And with one last gag, he busted all down my throat, making me take every drop! I can still taste the sweetness mmmmm!
He got up after and said, "U need to come over to my house. I only live around the corner. Let's finish this cause I want some of dat ass!"
But unfortunately I couldn't leave when he did. :(
But about twenty minutes later, I headed over to his house! But that's another story in itself!
Hmu If u in nor cali! Jaybayismay5@gmail.com