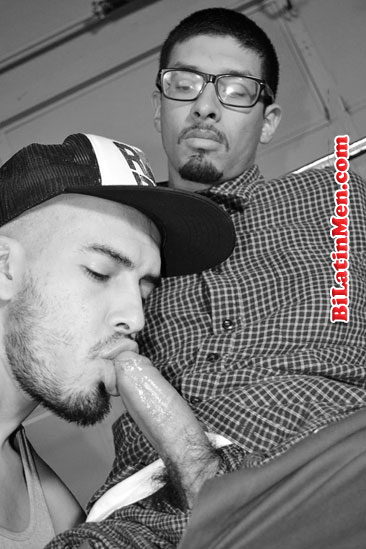 When in school, I used to work with my uncle part time at one of his stereo and alarm shops. While working with him, he opened a second shop that I ended up going to work at with after school. Throughout school, I worked at the second shop. He ended up needing help since I was only part time, and he hired a new guy.
The guy he hired was in his twenty's, and he and I didn't speak much at first, but we did work well together. Even though we didn't speak much at first working together brought us to joke around with each other. The guy had a very cocky attitude.
We got comfortable with each other around the work area since we would see each other on a daily basis at the shop Monday through Friday.
When we would joke with each other, we would throw slurs at each other back and forth. Then we started slapping each other on the ass. This came along with us calling each other names, such as "lil momma" right after we slapped each other on the ass.
We would do this with no hard feelings, but more with a sense of horsing around. Even though we joked with each other on a daily, I sometimes would wonder what ran through his mind when doing it and if he thought of anything different than just simply horsing around.
He one day cornered me by the entrance of a restroom inside the shop while my uncle and my aunt were having lunch. He grabbed my hand and placed it on top of his crotch, and he said to me, "You know you want this."
I then looked at him, smiled and pushed him outta the way, and I went into the restroom to take a leak.
Time went on after that incident but nothing changed, but I kept thinking of how he put my hand on his big bulge. I knew there was more to it than just simply horsing around. It was just a feeling I had.
We kept joking with each other, and we would joke about how we would make each other each other's bitch and shyt.
We had a Mc Donald's across the street from the shop that we would always get food for the shop to grub.
When we'd go to get food, we'd sometimes stop and take a leak at the restroom, and he was joking around, asking me if I needed a hand or some shyt like that.
One of the times that we walked to get lunch we ended up in the same restroom and not just the same restroom but in the same stall.
We closed the door behind us and he was pushing me down, telling me to go down on him and I just didn't want to. So I grabbed him by the neck and pushed him down, then I pulled my dick out and told him, "SUCK THAT DICK!"
He didn't say a word. As he was sucking my dick, I told him he better not say a word to no one. He sucked me off and I told him I was gonna bust my load. I pushed his head so that my dick would go deeper into his throat and I shot my load. He gagged a little bit and I told him to swallow it and he did. I pulled back and zipped my pants back up. I paid for our orders and walked on back to the shop.
Nothing really changed between us. We kept it cool and told each other that we better not act gay now that that happened. We still acted a fool around the shop. We fooled with each other several other times at his pad. We would ride over to his pad, blow one another till we nutted and then we would go about our ways.
Time moved on, and I moved, and we both lost contact.
Hope u guyz liked my story.
Also follow me on Twitter.com/3Trez