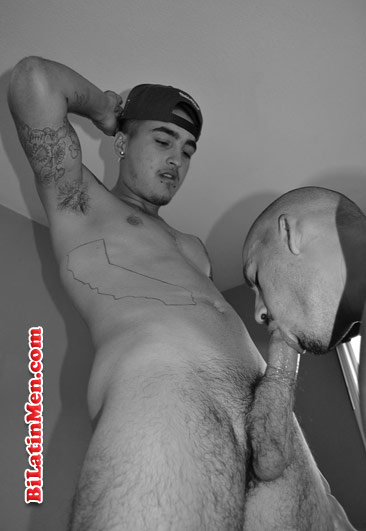 Here is the story of the time I had sex with this guy I met on a hook-up app at a park at night. His name is Francisco, 35, he's 5'6" lean body, nice 7" dick, amazing ass! Me, I'm Gilbert and I'm 21, 5'9", 170 lbs, 7.5" uncut dick, just your average guy.
Getting back to my story, this guy messages me on my hook-up app. He doesn't have a face pic, but still I reply with a friendly "hey!"
Next he sends me a face pic and see that he isn't bad looking. He's just not out. He asks me if I wanna meet for some fun, and that he is bottom/vers, and me being top/vers can't pass up the oportunity for some fun. I ask him if he has a place and he says that he lives with his brother and noone at his house knows he's gay, and I couldn't host either, being 20 at the time and still living at home with my mom (now I finally moved out and I'm living with friends).
So I thought of something: I usually went running around this park at night called Modjeska (in Anaheim). It's a pretty large park and there are some parts where you can't see anything, it's very dark and very private, so I told him we should meet up there at around 10 pm when all the lights were out and there were almost no people walking around.
When the time came we met up, said hi and started walking around the park looking for a good spot to fuck. We went behind this shed that's used for all the baseball equipment and just went at it.
He started making out with me, and I was just rubbing my hands all over his body, his ass, pinching his nipples over his shirt. This guy was loving it. He just kept on kissing me and feeling my dick through my jeans.
After a few minutes of this, he unbuttoned my jeans and got on his knees and pulled my hard dick out of my briefs. He put my whole dick inside his mouth on that first move. He was deep throating it, gagging every time. He just loved my dick so much.
Then he asked me if I wanted to suck his, so I got on my knees and put his dick in my mouth. He wasn't hard at first but with a few licks around his head, he started getting bigger. It tasted pretty nice and he smelled clean (always a plus).
After a few minutes, I asked him if he had ever been rimmed. He said no, so I asked him if he would like me to try it on him. He said yeah. So I just bent him over and told him to spread his cheeks apart. He was loving it, my tongue twirling around his ass hole, it was almost like it had a mind of its own. I didn't wanna stop eating him out but he told me he was ready to get fucked.
I got up and took out a condom from my pocket. I put it on my dick and positioned my dick with his hole and started pushing until I felt the head of my dick go past his sphincter. I was in absolute bliss and so was he. As soon as my dick was in him he just rammed himself against me. I could feel him working my dick with his asshole.
This guy was eager and I was not about to disappoint him. I pushed my dick deeper inside him, and he would moan, and the more he moaned the more turned on I'd get and the deeper I'd fuck him.
This went on for 30 minutes until I felt myself about to cum. I told him I was ready to cum and he told me to not stop fucking him until I came. He started jacking off and came first. As I felt his ass get tighter I couldn't hold it any longer and I came right after he did. I kept on fucking him until I was soft. Pulled out my dick, took off the condom and threw it in a trash can nearby. We pulled up our pants and walked for a bit. He told me he really enjoyed it and he would like for us to meet again, and we did, many many more times, but I'll tell you those stories later.
If you live around the Anaheim/OC area and would like to contact me, do so at glbrt_monter@yahoo.com
I really hope you guys enjoyed my story, and trust me I have plenty more to tell, all you have to do is ask.