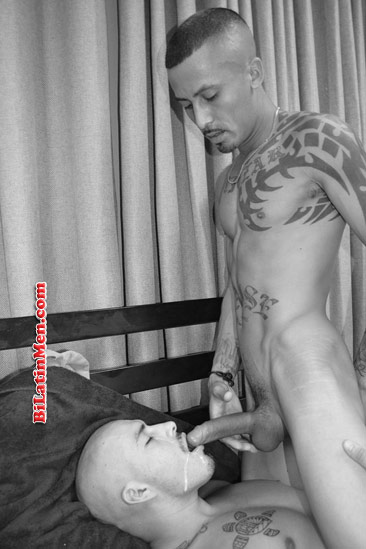 Wats up fellas. It's me A again. Hope y'all doing good. Ok first off I just want to give a shout out to sum ppl who have submitted or plan on submitting their stories on here. I'm sorry but if ur going to write a story please don't rush it, cause its like ur eating a bomb ass cake and when u go take another bite of it and realize that was it..such a disappointment, no more cake for the fat kid lol. Just an advice no hard feelings.
I was debating whether or not to share this story but I have a feeling it's a real good one. So I live in a town where the only time it's POPPING is during Spring Break or the holidays from Memorial weekend to Labor Day Weekend. And trust me, it's popping! A lot of hot girls in bikinis or pasties, (sum shouldn't even be wearing bikinis lol) a lot of hot Black, Asian, White, nd Latin guys. Most of them are built or have tattoos. Did I forget to mention, there's a lot hotel/house/ boat/ beach parties. And I love to party! We have famous Djs that come out here to DJ for an event called SWAT for Spring Break.
So knowing there's going to be a lot of good looking guys out here I reactivated my hook-up app cause I wanna see what kind of merchandise that are going to be arriving lol. I've seen quite a few good looking blacks and asain guys on the hook-up app, but as our conversation got going they were too busy getting drunk or so. I don't mind cause I'll be doing the same thing, it's all good, cool have ur fun.
A latin profile hit me up nd his username was Fratty Guy 4rm Cali. So obviously papi is on the DL or something right?! I didn't mind but I still held a good conversation with him when he showed me a picture of him. Oh my lord, kid was 2 inches shorter than me. I'm 5'6, we were the same age. He was built nd was half Italian. He was sexxyy.
He told me he was at one of the hotels over here and invited me to come drink wit him and his Frat Brothers but to just play along as if I knew him from high school long ago. No big deal, I can do that.
So I got ready, took a nice shower, shaved nd tried to look fly as fuck. I arrived wit a bottle of Smirnoff and I told him to meet me outside in the hall so we can rehearse on how I knew him. When he walked outside and I finally got to see him in person woah! He was sexy!
And when we locked eyes, I don't know but something about his eyes made me ahh lol. We were talking, and he said, 'Damn i didn't except you to be this sexy.'
I started to laugh nd he grabbed me by the neck and moved my head towards his lips and we started to make out. I could smell the alcohol coming off from his breath and knew a few more drinks and it's on!
So we walked in, and of course everybody is all drunk, when they saw I had a bottle of Smirnoff everybody was like 'Aaay!' Lol so "Jose" introduced me to his Frat Brothers and what not. We were playing beer pong and after that we ended up playing Kings Cup, Flip the Cup, and Fuck the Dealer.
While we were playing the games, I caught Jose checking me out a couple of times, and his eyes said it all: he wanted to fuck. Since we were all sitting at a table no one could see underneath lol he was slick. He had one of his hands on the table and the other underneath the table. He grabbed my crotch nd started to rub it hard lol. I didn't try to make any facial expressions cause it would be obvious. Thankfully some of the Frat Brothers got bored nd decided to go hit the clubs nd I saw my opportunity. I was like to Jose, 'Hey man, let's go visit my cousin for a Lil bit. I told him that you were in town and he would like to see you.'
He saw what I was trying to get at and was like, 'Ok I'll wait for them to get ready and I'll hop in the shower. Give me 45 min, is that cool?'
So to go along wit it, I said, 'Yea man, I'm in no hurry.'
So really we were waiting for them to get ready and leave the room, so we could have it all to ourselves. Finally they all left, and it was just me and him by now. I was drunk and he was wasted lol. We looked at each other nd started to make out on the couch (they had a suite by the way). His lips were so wet and juicy Mmm!
Jose was all into it. He started to shove his tongue down my throat nd was biting my lip hard. It hurt but at the same time it felt good. He was caressing my body, moving his whole body on top of my body, his hands working all over me. Since I could feel that he was a rough type, I grabbed his body and pushed it against the couch while we were still making out, then I jumped on top of him.
I was now caressing his manly chest pecs. I slid my hand underneath his shirt and just loving the fact I was touching his sexy hard built body. With my other hand, I slowly started to pull his hair from the back. He liked that. Then he started to move his lips lower and lower and started to suck and bite on my neck ohhh that's my weakness right there. I get the tingles lol we were both moaning manly. It was amazing.
While we were grinding our bodies, he took control nd he was on top and my body laid out on the couch. He started to lift my shirt up to take it off, then we went back at making out. I wrapped my legs around his body like he was not going anywhere lol!
Then I took his shirt off. By now basically we're ripping our clothes off of each other. It was a rush excitement. I have never been that rough wit anyone. I started to suck on the nipple and tongue my way down to his shaft. He was grunting. Then I licked between and all around his balls oh he loved it so good. I tongued his long 8.5 inch dick. I couldn't believe how big and thick his cock was for being a short Guy! Must be an Italian thing.
I gave him head slowly. Then he started to face fuck me real good. I couldn't take it all cause that's how big he was. We switched turns. He started to give me head. At the time I thought I would really love to take a picture of him sucking my cock, but my cellphone was in my pants. :( this was going on for at least 15 min or so until he busted out the lube and put it on my ass and on his cock.
He then started to finger my ass wit 1 finger then 2 then 3. He was fingering me so good, I was moaning kinda loud. He knew how to work it! He stopped and looked at me and asked 'Ready?'
To answer his question I grabbed his cock while layin down on my back nd tried to put his cock inside of me. The head was fat and I could feel my ass being torn open. I couldn't take it all at once. I had to get used to his big long cock. After a few tries once again he put more lube on it. It was a lot easier. He started to go in slow nd stayed there while we just looked at each other in lust.
He then started to pump it slow. My gosh, his cock was big and long. It started to tear open my ass. It hurt but felt so good at the same time. I was pulling his hair and scratching his back at the same time. He started to go faster and I swear it was like I could feel his cock all inside of me. I then laid down wit my ass out there for him nd he was just slapping his whole body on top of my body. He stopped and slowly pulled his dick out and put it back in and kept on doing it for a little while.
Then I told him to sit down, so he sat down and I just sat on top of him. He had his dick ready for me nd I slowly went down on it, he also guided me with his hands. Once he was in, he let out an exhale of enjoyment and I went slow at first nd started riding it good for him. He just closed his eyes nd loved it. He stopped me after 10 minutes and started to pound me as fast as he could haha damn!
Jose told me to get off and he wanted me to Fuck him! Sweet! So I put lube on his ass and on my cock and went in slowly. He started to flinch his body in pain lol come on man ur a lot bigger than me! Lol but it was cute.
So once I let him get used to it, I started to go faster. Ha ha it was cute cause he let out like a girl's moan lol I told him to lay down on his back and put his head on the arm rest. He put his legs on top of my shoulders. I started slow but proceeded fast, real fast where I felt myself about to cum so I pulled out and jizzed all over his sweating body.
I wanted one last round of his cock. so I went on top of his cock again and started riding it. I could tell he was about to cumm cause he was squeezing my ass and his body was tightening up.
I wanted him to bust inside of me, so I started going faster and his eyes were closed tight. He grabbed my ass real tight, and he released all his body tension and let out a long exhale of relief. It felt so good. I felt his pumps going off a couple times inside me. Our bodies were sweating like hell.
He looked at me and said, 'Damn, that was bomb, dude. If u were a girl, for sure ur gunna have my babies.'
We both laughed nd we both showered together and we still hung out that night. That kid was fun, but now he's somewhere in Cali and I have scratches and bruises, hickies on me the next day.
Hopefully we can kick it when I go out there, and maybe hit up a night club.
Well that is it. Hopefully it was a satisfying story for you guys. Feel free to email and tell me what you guys think of it.