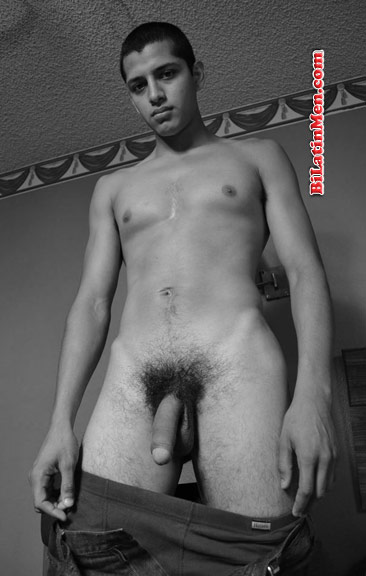 It all started on a Friday after school when walking to my primo's pad down the street. It was my 18th birthday, and before I approached my primo's pad, two of my really good homies walked up to me.

They asked me if I had any plans since it was my birthday, and I said just hang with the cousins at night.

They asked me if I wanted to hit up their pad, and chill, that it would be a good fucking time. On the way to the homie's pad, they kept joking about bitches that we had fucked with, and how good they had fucked them.

They were pulling my strings and saying how I probably had a small dick. I laughed and told them that my shyt was probably bigger than both of theirs. I also told them that I would pull it out and slap them with it. We dropped the conversation as soon as we got to the homie's pad.

We started chilling and watching TV. We all laid on the couch, and I brought up my homie's sister's name and how she had a good rack and told my homie to hook it up. He started laughing.

The other homie had my other homie's back and brought back up the subject of how I was bluffing and that my dick was small.

I told him,"Bitch, y prolly just wanna suck it!" and we just laughed it off.
We were all horny, still laying on the couch. I guess from talking about fucking bitches and whose dick was bigger, the three of us were rubbing on our crotch in front of each other.

The homie went into his room and put on a porno. As soon as we heard it playing, we followed him into his room. He was stroking his shyt with his legs spread open, and he had a thick uncut hard dick that he was jacking off slowly. He looked at us and said, "Fuck it. I need to bust."

I pulled my dick out which was already hard, and so did the other homie. We all three were stroking our hard dicks, but instead of watching the porno, the three of us were just watching each other stoke off. It was hot as fuck. There was a lot of lust in each other's eyes as we watched each other pulling on our hard cocks.

I couldn't believe how we were stroking off in front of one of another. I stopped thinking about it and just enjoyed the moment.

One of the homies sorta moaned in low breath and said he was gonna bust. I saw him unload his leche on the carpet. As soon as I saw him squirt his jizz, I shot my load on the carpet too. The other homie busted a minute later. We all cleaned up and zipped up our pants.

We went to the living room and laid on the couch and passed out. His sister walked in on us passed out and woke us up. We had fallen asleep for a couple of hours.

We woke up and just brushed off what had happened. I told them I had to bounce and head to my primo's casa.

Till this day the memory of us stroking our dicks and shooting a load remains in the back of my head. Sometimes I wonder, What if we had taken it a bit further and really fucked around with each other?

But I kept my story real and wrote it as it happened. Hope you guys enjoyed.
Follow me on Twitter.com/3Trez