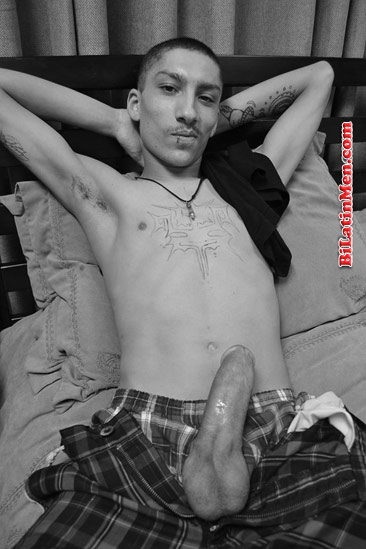 My neighbor across the street is always cleaning shit outside his house. I like looking at him especially when he is shirtless and washing his car. He has tattoos all over his chest, back, and arms. He is 35 years old and he has the most amazing body I have ever seen. He is a mix of Latin and White and when I see him as I come home from work, it gets my balls tingling.
One day, I parked my car right in front of his house. As I got out of my car he said to me, "When are you going to wash your car? It's overdue."
Feeling embarrassed I said, "Well if you give me a hand, let's do it right now."
He's the type of guy that is up for anything and is very talkative. I wasn't surprised when he said, "Sure, dude, let's do it."
He gathered all the stuff to wash it, and after dropping off my things at home I changed into some basketball shorts and a tee shirt. He started soaking the car and began washing it. Just to see him in action gave me a hard on. It was probably a bad idea to wear these shorts, I thought. So I grabbed a brush and crouched down to scrub the rims with the intention of covering up my growing boner. The whole time he was talking to me and I really wasn't paying attention because my mind was only focused on his hot body and I was excited to see how it would all play out.

We finished pretty quickly, but as he was rinsing the car he sprayed me with the hose and started laughing. "You look like you need to cool off!" he shouted from the other side of my car.
Without thinking, I grabbed a water bucket and I drenched him from head to toe. We laughed it off and he brought out some towels. We dried up the car and then all of a sudden he took off his shirt and gave me the sexiest smile I've ever seen on a man.
I invited him over to my house for a beer, and we continued to have small talk about nothing. I noticed his shorts beginning to bulge up as we were talking. He smiled again and said, "It has a mind of its own."
He signaled with his eyes and made a motion with his head that gave me the green light to drop to my knees. He stripped off his shorts and exposed a swollen 7 inch cock. He was uncut and smelled like slightly sweaty balls. The smell was intoxicating and I brushed my tongue over his head. He just threw his head back as he finished the last of his beer. I took his cock in my mouth as I closed my eyes and just took in the moment.

For a long time I had imagined what this moment would feel like. I started bobbing up and down his shaft and played with his balls at the same time. His quads just tensed up and I could tell he was enjoying every second of it.
"Yeah bro, you really know how to work on a dick," he said.
My mind just spun as I was in ecstasy, swallowing that meat and caressing his ass as I devoured his verga.
"Why don't you let me fuck that ass of yours, bro?" he whispered in between gasps.
Without thinking twice I got on my feet and dropped my shorts. He grabbed my round ass with both hands in a very rough and manly way. It almost made me cum just thinking of him inside me.
"Fuck baby, if I would have known you liked cock, we would have done this a long time ago. He spit on his hand and rubbed it on my eager ass. Then he spit on his cock and he spread my ass open.
I felt the head of his dick on my pulsing hole, and I backed my ass eager to feel his verga inside of me. He kissed my neck and whispered, "Patience, baby. I promise you're going to love this."
Without a warning I felt his dick spread the walls of my ass in a swift single thrust. I let out a loud moan as I adjusted to the size of his thick dick inside of me. He pushed my back down and grabbed me by the waist. He just started pounding my ass with no remorse. He grabbed my left leg with his left arm and lifted it up.
I could feel his cock going even deeper inside me. "Your dick feels so good inside me. Fuck me harder!" I said.
My neighbor grabbed me and turned me around. He threw me on top of the back of a sofa chair and had my legs up in the air. He said, "You really want to feel what it's like to be fucked real good?"
I responded, "Yes, yes please fuck me now."
Without saying another word, he rammed his hard rod deep inside, and I just moaned with pleasure. I was enjoying it for about 15 minutes of non-stop and then I couldn't hold it any longer. I just felt like shooting my load. "I'm gonna cum!" I said.
He took out his cock and started to stroke his dick rapidly. We both came together and he helped me up.
"Let me know when you need a hand with your car again," he smiled, as he got dressed.

I continued to have car wash days with him repeatedly that ended up in hot and sweaty fuck sessions ;)