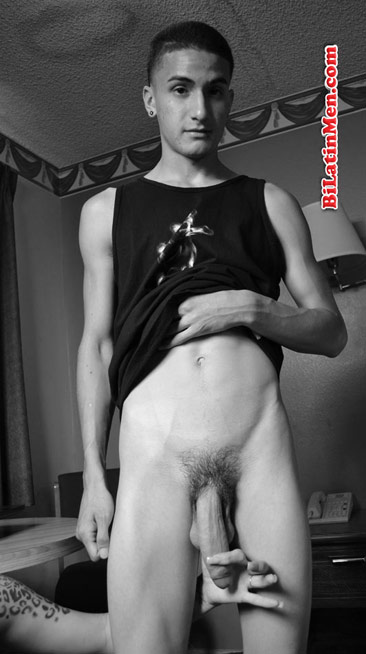 So, I'm fairly new to NakedPapis.com. My name is Jordan and I represent Chicago, IL. I'm a smooth pretty boy, I wouldn't say fem but I wouldn't say masculine either; maybe somewhere in between. I'm Costa Rican, 22 years old, 5'3", 120lbs, short dark hair and dark blue eyes. I work out a lot so I am cut; I have a six pack, nice ass, tan skin, dress to impress, and I guess the biggest compliment I get is usually on my smile. You got to keep your pearly whites clean.
So this happened two days ago, which would be this past weekend. I had been blue about all my girl friends going through tough times with their boyfriends. I had gotten a big bottle of Patron and asked them to come over for margaritas. Not one friend showed. They all flaked out because their boyfriends had said they didn't want them going anywhere. What insecure ass holes they are, right? Ugh!
So I ended up heading out to a bar on the north side of the city, which is where I live. I go in and have a seat and order a Corona and a shot of Patron. I make small talk with the bartender. As the night progressed, in walks this fine ass Puerto Rican dude. This place was pretty big and there were a lot of empty places to sit in this bar. Wanna know where he sat? Yup, right next to me! So I tried to play it cool like I wasn't all up in his George Foreman, but it was hard.
Let me describe this guy to you. He, which I later find out his name is Giovanni, stood about 6'5", weighed a good 200 lbs solid and had a fade with dark hair and eyes. He had a sexy goatee well lined up and he smelled good. Honestly, he could of passed Marcel, who was one of the models on the BiLatinMen site. He looked just like him, just a little taller, more built, and more darker. HE WAS FINE!!!

Of course, a guy like that couldn't go unnoticed. There were girls trying to talk to him and he was trying to talk to some. After about 15 minutes, he started to make conversation with me. He asked me my name and I replied.
"So, Jordan, where in the city do you stay?" he asked.
"I live up right here on the north side. How about you?" I asked.
He said, "I just got a new place up here. I am from the south side."
All the girls (and gay boys) know about the fine ass dudes on the south side lol.
We ended up talking, drinking, and having a good time. We talked about how I am a student at NEIU and work part-time as a server downtown. He stated that he was 27 years old and an aspiring boxer and that he has been training. He seemed really excited about one of his matches coming up. I don't know why it came up, probably because I was a little buzzed, but I had brought up me being gay.
"Ok, look, just to let you know…I am gay. Don't worry, I am not trying to get with anyone. I have a lot on my plate," I said.
He laughed and said, "I had already gathered you were gay. Chill out! It's all good."
He bought me a couple of shots, and I returned the favor and bought him some as well. After a while it was last call and time to say good bye. He asked what I had planned and I told him I was going home. He asked if he could come with me, and my heart just sank to the floor. I thought to myself, Yes I want him.
He took a cab to my place and walked up to my apartment. When he got in he asked if I had a cigarette. I told him yes. I don't usually smoke, but I was going to with him.
I went into my room to change into a pair of shorts and a tank. When I came out, he was just chilling on my couch, looking oh so good. We puffed on the cigarette I gave him and he asked me, "So, what do you do for fun?"
I laughed and said, "Lots of things. But I am not good at describing, I am better at showing."
His voice became sexy and he began to take off his jacket. He said, "Yeah, well show me."
This dude was big in every way. He wore a size 14 shoe, had big hands, ugh...so hot!
I began to dim my lights, began to kneel down in front of him between his legs, and started to undo his belt buckle. I fished out of his boxers the most biggest, thick, beautiful, uncut dick I had ever seen. It was about 8.5 inches, 6 around, and stood straight up in the air with a slight curve at the tip. His dick was so hard. His balls were huge and the head of his dick had already been dripping precum. I was in awe.
He looked at me and said, "I never done nothing like this before, but it's all good. Show me."
I opened my mouth and wrapped it around his nut sack. I was slobbering on his balls so good, licking them like a dog would his own. He began to breath heavy and sigh. I then unhinged my jaw, relaxed my tonsils, and swallowed every inch of that dick. He was loving it. He would grab me by the back of my head, sigh and moan.
"Yeah, you like sucking dick don't you?"
I said, "Yeah, especially yours."
He got up from the couch, pulled his boxers all the way down along with his pants and took off his shirt. I just melted. He was all muscle...ALL OF IT! He had a semi hairy body with pecks and a six pack that was just beautiful. He also had a tattoo of the flag of Puerto Rico on his bicep.
Then he had me on my knees, grabbed my head tight and began to fuck my mouth superbly. He lifted his leg and put his foot on the couch to get his dick in my throat better. I could see all my saliva dripping off his balls and dick. I could feel it pouring out of the side of my mouth as his dick hit the back of my tonsils.
After awhile, he sat back down on my couch and I continued to suck him. I swear my ass started to drip cum, that's how turned on I was. I could see him just watching me suck his dick, licking his lips, and shaking his head at me up and down as if he was saying that he approved. He then reached his big hand down through my shorts and squeezed my smooth ass. He liked what he felt and took my shorts off so he could squeeze it some more.
At this point, I said, "Let's go to my room, papi." He got up and followed me into my bedroom. He asked me if I had that good pussy. I only responded by bending over so he could see it. He pushed me on my bed, laid me on my back, and began to tongue my ass like it was a pussy. Oh, this made me squirm and moan. He then began to finger it and play with it. I really loved how he made me feel so submissive and feminine. That turns me on about a guy.
He lubed my ass up as much as he could with his tongue but I sneaked a little KY around my ass while he turned me over. With my ass up in the air, he stuck his dick in. I could feel him opening up my ass and could feel my ass slowly adjusting to his big dick. I then let out a high pitch moan and felt his dick just rip me open. He fucked me so good and deep doggystyle. I could feel his balls slapping my ass.
"You like all that big dick? Do you?" he asked.
"YES!! YES!! Ay papi..!" I screamed in pleasure.
He picked me up like I weighed nothing, sat on the bed, and just placed me on his dick reverse cowgirl. Oh my gosh, he was just so big! He fucked me so deep and hard that I could feel his dick in my gut. He would whisper in my ear, telling me I had good pussy and that it was tight, wet, and the bomb. My bed faces a mirror and all I could see was this big dick just drilling my ass; opening it up and going all the way in. He told me he wanted me to cum through my ass. I really think he did make me cum through my ass.
He fucked me so good, kissed on my ear and I somehow reached my little body around and kissed him while he just dicked me down. He then laid me on my stomach and just put all his weight on me. Fucked me some more, moving his hips around and around while he was getting all in that ass. I was moaning like a bitch, breathing so hard, whining when his dick just stretched out my hole to the max. I know my neighbors heard everything too.
He fucked me for about an hour straight, and my ass still didn't get dry. When he was about to cum, he pulled out and had me open my mouth. He jacked his dick towards my mouth and shot wads of cum in mouth. Literally, so much cum… it was pouring out of the side of my mouth, some on my face, and my chest. My legs were shaking. Fuck, my whole body was shaking! I had never been fucked that hard.
He laid down with me in my bed until about noon time. He woke up and asked, "You ok? You cool?"
I laughed and said, "Yeah, I'm Gucci!" I let him shower and clean up.
When it was time to go he said that he had a great time. Nothing really came up about the sex or the next time we'd see each other. We both had big grins on our faces and were kind of blushing. He gave me a hug and said not to worry. We'd see each other again. Gosh, I sure hope so. Thanks for the time, guys!
Representing Chicago, IL, I'm Jordan! I'm out.