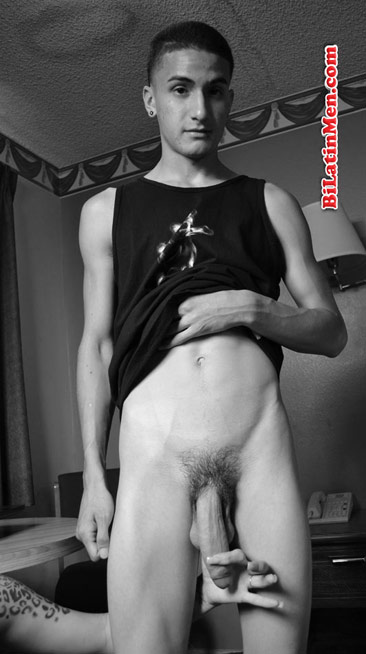 I wrote a little story that recently occurred to me.
When I walk in to the barber shop there's that fresh aroma of aftershave and talc that is simply refreshing. Each week, I can't wait to get my fresh tape-up so that the fellas around my way can just stare. I am not Michelangelo or GQ magazines sexiest man of the year but I got some "swag".
I just one day happen to walk in to this really neat and clean barber shop around the corner from my new apartment. I wanted to get myself cleaned up for the weekend. You never know what can occur.
So as I come in to the shop, there was this really handsome, light skinned Dominican guy they called Locotron who captured my attention. He was about 5'9" around 24-25 and had a big ass smile. He was well kept, and had a big butt and he was really slim.
As I sit down, and grab the latest Vibe magazine, Locotron walks over to me and say, Sup kidd you looking to get a cut?
And in awe, I looked up at him and said Yeah... (I was blushing). He walks with me to his station, and he sterilizes his implements. He asked me what kind of cut I wanted and because I was so nervous around him, I asked him to hook me up.
He began cutting my hair, and to break the ice he asked me different questions and stuff. He asked if I had a girlfriend. And I told him, Nah. He was like, Iight..
As he began making my beards outline, he brushed his Dominican manhood on my hand.
I gasped. He says Oops Sorry! No Homo!
I laughed it off and said nothing.
He started rubbing his dick on my arm again and I go to grab it. He quietly smiles and finishes up my cut.
I am shocked this is all going on. I tell him quietly that if he wants some "Chulo" (my nickname) he has to beg for this.
Locotron say, "Pero, papi ese guevo esta mio". (guevo in Dominican Spanish is slang for dick. (But daddy that dick is mine.)
He tells me, I wanna try that Light skinned Boricua dick tonight. I tell him, Iight but, pa, that Boy Pussy is gonna be ripped apart.
We go on talking dirty till he's done shaving me and stuff. He tells me to come back tonight around 8 pm after he cleans up the shop and he's here alone.
Iight bet. He winks.
Time passes and its 8 pm. I get to the shop and who do I find wearing basketball shorts and a wife beater, my Locotron. As soon as I walk in, he locks the door and he lays me in his chair. He tells me to close my eyes and relax. He turns off the shops lights and he takes off my sweat pants and pulls out my Puerto Rican pride and joy.
He begins sucking my dick and making my monster grow from soft to hard in no time. He really worked his mouth on that dick. He pulls me from the chair and walks me to the back on to the massage table and tells me to lay and eat that pussy.
I am amazed of how good and clean that boy pussy is. My tongue goes deeper in and Locotron is moaning so loud that it makes my dick stand up even more. I grab Locotron and I make him sit on my dick. It's the first time I ever hit it raw. His slippery wet ass fits like a glove on my dick...
I begin easing my dick inside him. I slowly thrust my manhood in him and he begins to moan. I begin dancing inside him and he says, Damn papi, for a young man you know how to fuck.
I grab him and kiss his juicy lips.
I flip him over and fuck him missionary, and I keep going until Locotron is about to cum.
Locotron's body is shaking... and I see that juice shoot all over the table. Locotron begs for me to nut inside and let him have my baby. It was very exciting to me, without delay I feel the need to cum. I am edging, making Locotron's boy pussy work for the milk, I can't fight that pussy anymore. I bust inside his pussy.
Locotron doesn't let me take it out. He makes me fuck him missionary again until I bust my 2nd nutt.
Locotron smiles and puts my dick in his mouth and tells me that this is his dick.
He makes me promise not to tell anyone else. I keep my word.
We continue our sexual rendezvous weekly (with a condom) until he breaks the silence one day and asks me out.
We have been dating exclusively dating for a while now and continue to practice Safe Sex.
I am slowly falling for my faithful barber...