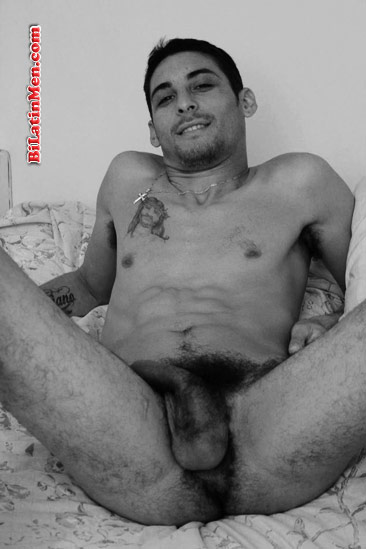 Hey! I hope you read my other story "It'll Feel Good." I've got another good one for ya :) Here it goes............
Yo what's crackin. I go by A on here. I like to keep my name a mystery ;) Anyways I'd like to tell you about myself: I'm 21, 5'8" nd weigh 140. Pretty skinny Latin guy. I always rock Mohawks nd dye my hair every now and then. I'm like a caramel skin tone with hazel eyes. So about this story, ha ha, well the title pretty much says it all!
Ok so when my lil brother came out as gay, I told him, "Yea me too!"
It was pretty funny, but I never had a sexual encounter at that time, but I knew I was bisexual though (nigga likes to get some wet pussy too!) When he left to Germany, cause he was in the service, I hadn't really told anyone about me, only a selective few. Plus I wasn't seeing anyone or talking to anyone. So I felt like a lil alone. I know I wasn't in a great state of mind at that time, and I wanted to talk to someone that I could relate with. So I was on Facebook nd suddenly I remembered someone who came out a couple of years ago! It was my girl cousin's ex boyfriend!
I messaged him, saying, "What's up, how's the cali life etc.," nd I mention to him how my brother came out to me nd I to him. He told me that he had to re-read what I said over nd over to understand what he just read! He was shocked, but was giving me good advice and making me feel more comfortable about my sexuality.
In all honesty, that's all I wanted to do, just express myself and how I felt, but for some reason we kept on talking for months and months, and there was little flirting going on too! It was around December 2012 when he told me he was going on break from school, and he didn't know what to do. I joking around told him to come out here and don't waste no money on a hotel to just crash at my pad. Ha ha He text me that Friday saying he was on his way! I got all excited :) nd I had a feeling we were going to do something ;)
And everything worked out perfect too. The parents were once again out of town for the weekend! So pretty much it was ready to go ;) When he arrived, damn, I forgot how sexy he looked. I remembered checking him out when he used to come out here, but he was straight at that time and was dating my cousin, so pretty much it was off limits lol and I was not quite sure if it should still apply? Should it?
I mean it's been years ago when they dated lol nd plus nigga's gay BUT no one really knows about me being Bisexual nd to top it off my twin brother is gay. So you would think the other twin is too, huh? We knew of the mess we were in, and knew my cousin (his ex) would think of something. But we just went with the flow as friends right.
So I let him get settled in, and I was fixing up drinks for the night. Then we sat down and talked. I told him that how much I appreciated him for helping me come out nd was really thankful for that. He was like, No problem man.
So I tried to change the subject nd asked him if he liked bilatinmen.com, nd nakedpapis.com. He said, Yea why? I told him that I have a "Xmas" gift So I went to my room and got my "Xmas" gift out which was a bilatinmen porn DVD.
I showed him who it was from lol He was like, "Whaat? Really?"
I asked him if he wanted to watch it ;) He said, Sure.
So we were watching it and checking out Ruthless sexy ass! (Ruthless if ur reading this Waddup!!)
We were sitting kinda close on the couch nd I scoot back a little towards him, and I looked back at him nd our eyes locked. You could tell there was such tension nd a sexual atmosphere in the air.
Well of course, me making the drinks plus putting on a porn DVD, of course there's gunna be that type of chemistry! I leaned in to kiss his wet-looking lips nd started to make out with him. Our bodies were grinding on one another.
I was running my hand down his sweet sexy looking face. I was loving it. Here I was with my cousin's ex! Then I laid down on the couch nd he was on top of me. I started to rub his thighs to his crotch area nd I could feel his dick getting hard.
I started to take the belt off nd worked his jeans down. He started to take off his shirt nd taking my belt off of me. So pretty much we were helping each other undress. It was beautiful. We were finally naked, and I told him that I wanted him to fuck me. He busted out the KY nd started to put some on my ass nd his dick, haha Nigga came prepared too!!
He laid down on the couch with his rock hard dick in the air nd I hopped on that dick slowly. I let it stretch me out nd I picked up a rhythm bouncing on that fucking hard cock. He was loving it and so was I :)
Then he took over nd started to fuck me hard. Damn, that shit was hot! He put me on my back nd told me to put my legs on his shoulders nd damn nigga could pound!! Man, just going through this was amazing! Mind you, we were still watching the DVD lol We busted out a few different positions nd we both finally came ahh It was my best cumming ever!
We both showered together nd from there we started getting ready to go out :)
His trip over here was complicated cause my cousin saw text messages I think from us? But oh well, 2 weeks later I went out to Cali nd he took me to my first gay club. It was fun! No one approached me because apparently it looked like we were going out lol Smh!!
After the club we got a hotel room and went at it again! After our session, I asked, Damn Foo why u sexy?
He was like, Nah nigga, why u sexy?
And this is exactly what I told him, Cause Baby I Was Born This Way, so let's Just Dance but this is a Bad Romance.