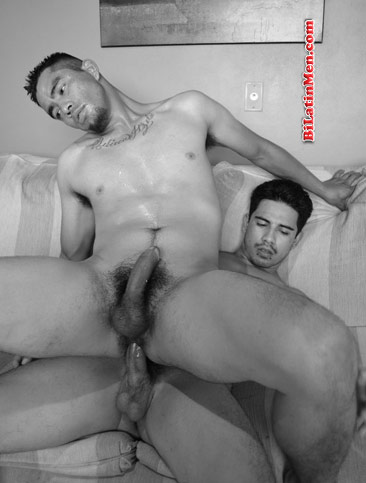 Wat is up my fellow Naked Papis!? Como estas?! My name is "A" im a bi dude. I like to keep myself looking good :D
Oh and thank you for those who wrote me back. I tried my best to answer each and everyone's email.
So this story I have for you guys is probably my best experience yet ;)
So ever since my last two stories I have been a lil low key until one day someone mentioned to me about this app called Grindr, so I gave it a try and it shows all these guys in your area and their distance from you.
I'm picky with my guys, so I was skimming and skimming through, and then I received a message from this dude and he was around my area. We got to talking on a good note. He was saying he was in town for a week for work. That it got a lil interesting, and he was saying that him and his partner are into 3 sum, and asked if I was down.
I had never done a 3 sum, so I was like YOLO! lol jk (You Only Live Once). I didn't say that, but I did say, Fuck it, there's always a first time.
He gave me his address to his pad, and I arrived shortly after a nice shower. (Gotta be clean @ all times ;D)
I called him and told him to meet outside his pad, and he looked pretty good. He was 5'9", light skinned with some meat on him. We introduced each other, and he was like, "Oh my cousin and his friend are here, but it's not a problem.'
I said ok. And in my head I was thinking, 'Damn, it's going to be weird.'
He led me upstairs to the second floor. When we were going up I saw that his shorts were just a lil low enough for me to see his ass ;) haha I was like, Damn!
We went inside, and I saw 3 other ppl in there. One Guy was washing the dishes (his Cousin's friend). He looked cute as fuck. He had tattoos on his arm and wearing a snapback. And there was his cousin layin on the couch and we said, Wassup? This kid looked young but still looking cute. The other Guy was his partner and he looked just ok lol but still nice.
My host asked if I wanted a cigarette. I said, Yea.
We all went on the balcony, just there chilling and smoking, and my host was asking me questions about my town and how was it and stuff. How was the gay scene over here, this and that. And then I went to grab the cigarette. When he passed it to me with his right hand, with his other hand he grabbed my crotch. I was like, Ooo hoo hoo lol and no one saw it cause his partner was kinda blocking us. It seemed he was blocking us on purpose, and mind you this guy is still rubbing my crotch the entire time!
Well his partner moved away, and now everybody could see what he was doing. I just let him, I was just there against the wall chillin, lookin at him rubbin my crotch. He was like, 'Oh he's half way there' and he started laughing.
I was like in shock cause he was doing this in front of everyone! I was eyeballing his cousin and his friend cause they were the cutest ones. The way his cousin was looking at us seemed like he liked it, I can see it in his eyes. I guess them two were like, Ok do your thing because unfortunately the two cutest guys got up and left.
But this couple they were just rubbing their hands all over me. My host guided me to his bedroom and slowly them two were removing my clothes. Man, they were praising my body as if it was a temple and it felt great cause. I was horny haha.
So now we were all naked and next thing I felt was the other guy's tongue in my ass. It felt really good. I've never had my ass eaten out too, so this was cool! We all laid in the bed. Now his partner was right next to me, rubbing my chest. While my host was sucking on my dick, he was twirling his tongue and going up and down, and he grabbed my legs and pushed them towards over my head to where my ass was in the air.
And then he was eating my ass good! I could feel his tongue inside of me, and I was just loving everything. He grabbed some lube and a condom. He put a lot of lube on my ass and started fingering it and my ass was tight as hell cause I hadn't gotten laid for a while lol. And then he slowly started to put his 8 inch cock in me. Yea, it hurt and I told him to go slow and I got used to it.
* a trick that I discovered when getting it in: don't think of the pain, cause it'll hurt. think of how nice that dick is in you and enjoy it ;) *

So he got the rhythm and stuff, and I was over here next to his partner, giving him a hand job and sucking on his cock. We were going at it for 30 min, and I could see his manly sweat dripping which was hot. And I was like, "You know what will be hot? If your cousin watches us."
And next thing I knew, I opened my eyes, and I saw the cousin by the door. His body halfway out and just looking at us with a big old grin on his face. Seeing his face like that made me turned on, cause now I wanted him! I got up and my host was talking to his cousin and said, "Yea, he can take a dick. Come on and join!"
The cute cousin smiled and said, "Yea?!"
And I thought we were done, so I went to grab my clothes which was right next to them. So I bent down to get my pants. My host grabbed me and bent me down on the bed and started to fuck me right there in front of his cousin! The cousin smiled and got a bit shy and left lol.
So we were going back at it again. I got on all fours, and he started pounding me good, while his partner just laid on the bed, watching us and jerking his dick.
So finally it was time to nut, and I wanted to take a shower. I was washing up, and the cousin walked in the bathroom and asked to see my tattoos on my rib cage. I showed them to him, and he liked them and smiled.
So we all went outside to smoke, and the guys were like making fun of it lol. And the next 2 nights I went back for another round!
And now I was getting used to the dick, and we fucked real good. Even the cousin and his friend were like, 'Damn, we can hear you from the other room! And we're pretty sure the neighbors heard Lol'
Well, u guys, hope you enjoyed it. Hopefully I'll be writing one with the cousin pretty soon ;) my host says that he's kinda shy, but is down to fuck me. Well, we just have to wait and see.....