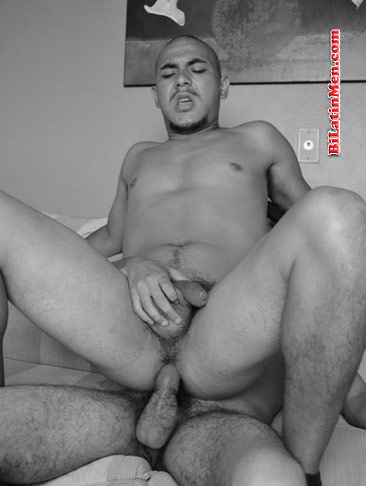 Ok, so one night a gay guy friend (Yanet) invited me n some girl friends to the club. His roommate (straight guy Selvin) was invited too. But Selvin decided not to go. The first time I saw him I was like, Daammmn! He was real goodlooking, tall, masculine with a nice body.
So the next morning, Selvin said, "Come over n have a beer with me."
I said, "OK."
He was just staring at me, not saying anything, so then Yanet got home. Selvin stopped staring at me when Yanet got there, and eventually I went home.
Time passed. Yanet said that Selvin kept asking Yanet for My phone number, so I said, "Don't," cause I was in a relationship.
One night Selvin was like, "Let's go to the club."
We all were like ok. So Selvin asked me to dance with him, which shocked me cause he said he was straight. The music was too loud, so I got close to whisper in his ear. I accidently put my lips on his ear. I could tell he liked it. I was having fun teasing this straight boy.
That night after the club, we went to Yanet's house. We were in the living room. We were talking n Selvin went in the restroom. He came out, went to the kitchen, grabbed some beers. It was coronas.
So I went in the kitchen. I knew if I stayed in there, he was going to go in and follow me (there was someone in the living room).
So Selvin walked into the kitchen, and this fine ass straight boy grabbed my hand, took it and put it down to his cock. Fuck he was hard as fuck, and that shit was thick. My heart started beating and for a second I wondered if he was just teasing me cause he so masculine he doesn't look or act gay at all.
But then I got real horny, and I said, Fuck it. With my hand on his cock, his dick then got even harder. He made me suck him. I got on my knees. He put his two strong hands on my head and fucked my mouth hard. I kept thinking someone might walk in, but he got he so excited and horny I didn't care. My saliva was dripping out of my mouth cause he was a rough fucker, and he was fucking me rough. I was thinking, Damn that must be how he fucks pussy, all rough and shit.
I could tell he was getting real horny, cause he dug deeper and deeper into my throat with his hard cock. I was thinking, Damn there is no more place for you to put that cock in my mouth, you already put it all the way down my throat. But he was the man, so he did whatever he wanted.
After some time, I heard some noise in the living room, like someone was coming into the kitchen, so I got up. He put his huge uncut cock back in his pants, but he didn't come.
So he tried to kiss me. I pulled back, so he pulled me harder and I just closed my eyes and to my surprise he bit my bottom lip. It was as my first time n I was like OMG. That night we didn't fuck. But he took me to his room and he made me suck him for hours. That night, after he busted twice in my mouth, he slept in my arms, and I kissed him while he was asleep.
This was towards The end of June. On July 6, 2012 we became partners. I gave it (my asshole virginity) up to him on July 3.
Now it's December 1, 2012, 6:27 am n we will be together 5 months on 12/6/2012.
I LOVE him. He loves me. I am the feminine looking bottom n he is the masculine top. I LOVE HIM.