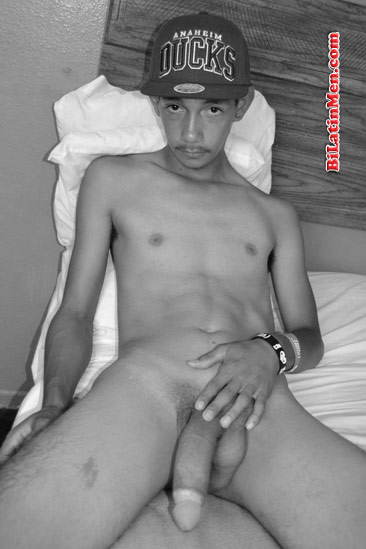 Last week I was smoking with my bud man named Hector.
He's a 19 year old light skin Cuban, real macho with lots of tats, real thuggish.
He's my bud dealer, and his girl is my girl's friend, and me I'm straight but I like to have fun on the low.
I'm 27, light skin puerto rican, little thugish too. I keep it hardcore in the streets and ruff in bed.

Anyway last week I went upstairs to my neighbor Hector's house to buy some weed from him.
He told me he only got one left, so I told him, "I'll chip in on that blunt, whats good."
He said, "Cool. Go to the store and get a dutch while i crush the bud."
I said, "Cool."

So I ran to the store, got a dutch and started heading back. I was excited to chill with him cause he so hood like me, we always talked about bitches and bitch niggas he liked to punk, always asking me about gang shit from the 90s.
When I got back he told me, "Let me roll up and you just chill on my couch."
I said, "Cool."

So I slumped back and grabbed the remote, flickin thru channels. When I was sitting there, I got comfortable and sat like a dude with my legs a little separated, giving myself ball space. I noticed him getting stuck, staring at my cock line. I ignored it as if I didn't see or maybe I was just thinking dirty. I am a horny bastard.
When he was done rollin, he sat next to me, lighting up the blunt. I found a movie which was cool but had some homo parts. On one part it made me grab my cock, rubbing it over my pants, catching my neighbor's attention.
He passed me the blunt, and we started talking shit for a bit. then he looked at me and told me. "Yo ima ask you something. Hope you don't take it offensive. Have you ever had a guy suck you off?"

I looked at him and saw he was serious, so I told him, "Yea, once when I was younger."

Then he said, "How bout now? Would you let someone suck you off?"
I thought about it for a while. This guy's straight, got his girl, he's a cool dude, good looking and young. So I stood up and told him, "Why? You wanna suck this dick?"

At that moment my 9 inch dick was already in my hand and hard and sticking straight out, and he looked shocked that I was ready with dick in hand.
He passed me the blunt and told me, "I wanna suck you quick before my girl gets back."

So I took the blunt, pulled my pants and boxers all in one down to my ankles and fell back on the couch. He then came and took off his shirt, revealing his tatted body, aand kneeled on the ground next to me. He took my dick and started playing with it.

He pulled my big uncut dick towards his mouth and tried to go deep. He got half of it in before he gagged. It looked hot watching a masculine married dude with a moustache and goatee sucking me. He then started slapping his face with my spit covered dick, leaving his cheeks red and wet.

He then started jerking off while sucking my dick, tasting it with his tongue. Then in the middle of it we heared the door bell ring.
I told him, "Hold on. I'm about to cum."

He said, "Yes, me too. Let me know."

He then started moving up and down, slowly making my dick slide back and forward on his lips, feeling like I was fucking a pussy. I started to cum. He laid on the ground and told me, "Cum on my chest."

So I leaned over his stomach, aiming my dick at his tatted chest and started cumming on it, covering up his light skin hairless chest and tattoos with my cum.
When I got up, he started jerking off, looking at my cum drip off him. He got so turned on from watching my cum all over his chest that he came on himself, spraying even more cum on his chest and stomach area. I was surprise to see a 5 inch dick shoot that far.

Ten minutes later the door starts knocking. He opened it, and it was his girl. She said, "I've been ringing the bell for a while."

He said, "It hasn't rung here," and gave her a kiss in the mouth with my dick scent still on him. I just laughed and couldn't believe what just happened.
Now after that day I would get my dick sucked and get my bud for free. I would get the best of both worlds ......