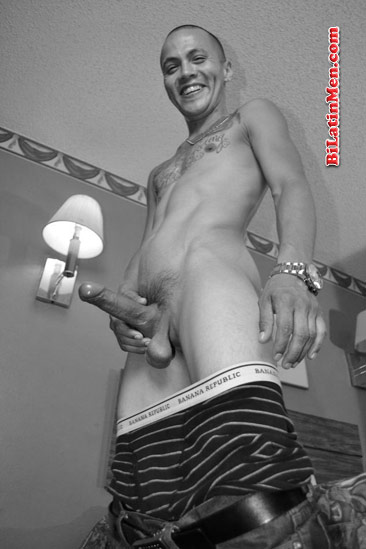 Hi, I wanna tell ya a story about my cousin and me. My name is Carlos. I'm 19 yrs, 5'8", 150 lbs, light skin top. My cousin is a shortie, cute little bottom about 5'5" 120 lbs, 18 yrs, light skin, short curly hair and a nice ass. His name is Richie.

Well, I called him one day to go over and spend the night. I knew he liked to smoke weed and for the past week or so he had been telling me how he wanted to suck a dick for the first time and how he wanted to get fucked, so for the past week I had been hinting to him to let me tap that ass. We both laughed, but I think he knew I was serious.

So over the phone one day he told me, "You know you can come over and spend the night."
"Ive been waiting for you to ask," I said, "Word, you gonna let me sample that ass?"

He responded "Maybe."

That made me excited and hard at the same time. I told him, "I'm on my way."
I hung up, running around my room excited, thinking, I'm about to have me some virgin boy pussy. Just the thought of it made my dick hard and knowing my cousin is very clean, always smelling good, I knew I was going to enjoy every minute of it...
So when I got there, the mood was right, the music was on, drinks on the counter and dutches in hand. I began to roll up and flirt with my cuz a little bit. I could see he was a bit nervous, so I tried to comfort him. I started by telling him, "Serve us some drinks while I light this up."
That woke him up. I could see when he reached for some cups that his hair was a bit wet. I asked, "Hey, did you just come out the shower?"
He said, "Yea, why?"
I said quickly, "Nah, just wanted to know if you had that ass prep and ready," and I smacked his ass. He turned around and laughed. "Damn you crazy," he said.

I said, "Let me see it."
I started putting my pointer finger at the waist band of his jogging pants, pulling it downward. I could see the ass cheeks nice and round and hairless. I coudn't take it no more. My dick was super hard.
I told him, "Let me ready you up."

I spat on my finger, wetting his asshole, making it nice and slippery. I put a finger in, and I imagined that being my cock. I put another finger inside him. I could feel him tense up. I whispered, "Don't worry. Ima make you mine."
He looks at me and said, "I'm ready. Please be gentle."

I get amped. I pull my 8 and half inch uncut dick out and spat on the head. I was thinking about getting a blowjob but virgin ass was all that was on my mind. We took the party to the room. There I enjoyed stripping him naked and putting him on four. I got ready putting my thumb in his ass while I jerked my dick with the other hand.
As I put the tip of my dick in his ass, he asked me, "Do you have a condom?"
I said, "No, but don't worry. You can't get pregnant."
He was getting ready to say something else, but the head of my dick was already sliding in. I heard him moan and felt him tighten his ass.
He cried, "Ahh, gentle please. That dick hurts."
I said, "Yea no problem."

I kept it in for a while, letting him get used to it. After he was used to it, I started slow penetrating.

He said, "Let me lay on my stomach."
I told him, "Go ahead."

He did. So without me pulling my dick out now I was laying on him. From the back he seemsed so much shorter like this. I looked down and I could see my dick deep in him. I laid on him and start ramming all my dick in and out his ass. He looked like he was in pain but told me, "Keep on fucking that ass" and crying.
I was turned on so much. I fucked like I was married to him. After a good 20 min of fucking him, I came inside his ass. He knew I did too. I rolled off him and laid there on the bed. He turned around and looked at me saying, "Oohh, it's dripping out my ass and it's warm. Ima go wash up," giving me a kiss on the lips.

I followed him to the bathroom. I washed myself too. I was a little dirty with that virgin blood on my dick. He jumped in the shower, and I saw him washing up. I got turn on again. I jumped in the shower with him and went in for round 2.
He was sore so I had to be gentle. I laid in the tub, and he sat on my dick reverse cowgirl style. From the back I could see my dick in his ass. He began to jerk off, slowly riding my dick. He then moaned and breathed hard. I knew that he came, so I told him, "Stay like that. Just lay on your knees and hands," and I finished it off fucking him on doggie style, cumming a second time in him, enjoying that ass as I put all my dick in him and came deep inside of him.
When we got out, we laid on the bed and started smoking the blunt we never finished and talked about how good it felt and how were going to keep a secret relationship.