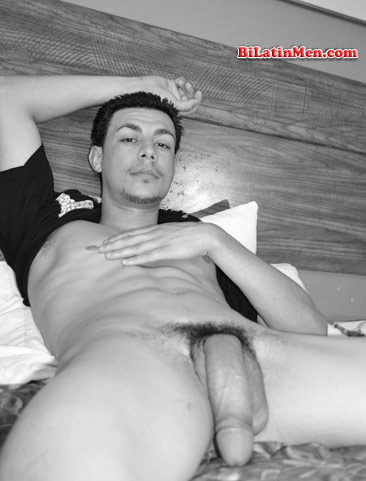 I Didn't Think A Short Guy Can Pack That Much Heat
By anonymous
Last week I went with a friend to a club so he can try to pick up guys.
He's an older unattractive guy about 50, dark skin puerto rican. I'm married with kids, 27, light skin 150 lbs, short hair and about 5'4"
Well, my friend likes light skin Latinos.

Well, one night at the club he saw this one guy he liked and pointed him out to me. It was this cute light skin shortie trying to play straight .
I went over and told him, "My friend wants to buy you a drink."
He said "Sure."

So we headed over to my friend so I could introduce them. His name was Eric and was 22 years old from Brooklyn. He was talking more with me than with my friend.
So I asked him, "What you think about my friend?"
He said he's not interested and just wanted to hang and drink, but he kept being real friendly with me.
A couple drinks and songs later, we decided to go out to the front on the sidewalk and catch some air out there. I told him, "Hey, my friend is feeling you. Try to talk to him even if it goes nowhere."
He said, "Nah, not my type."

I said, "No stress. So what is your type?"
He never answered. When we were out on the sidewalk we smelled weed. He quickly said, "Man, that shit smells good.
I told him, "We have some in the car."
He was like "Word" talking all loud, trying to sound tuff and acting all straight and shit.

I said, "Yeah, let's go get my friend so we can smoke in his car."
We went back in and got my friend. I told him, "The guy wants to smoke. Let's go to the car."

He was excited to hear that, and we quickly left from there. We headed to the car, and I sat in the front with my friend and him in the back. While I was rolling, my friend was talking to him and asking questions, and on one question my friend asked, "What are you gay, bi, straight?"

He said, "Oh I'm straight and I don't really do nothing," and all this bullshit. Me and my friend looked at each other.
I then said, "Yea my friend don't smoke so Ima jump in the back with you, that's cool?"
He said, "Sure."

I lit the blunt and started smoking, looking at this so called straight dude, thinking I wanna turn this dude out. I passed him the blunt, and while he was smoking I pulled my dick out the zipper part of my pants. He was still smoking and hadn't noticed. I jerked it a little, and when he passed back the blunt he saw my big ass dick standing straight up, and turned his face real quick.

I told him, "What happened?"
He laughed and said, "Wow, you're crazy," and I saw my friend looking back at us.
My friend said, "That's nice right?" and the guy Eric agreed and said, "Yea I didn't think a short guy can pack that much heat."
We all laughed. I then told him, "Try it out."

He hesitated for the first min, just playing with it and just sucking the tip, not wanting to put the dick inside his mouth. Maybe he felt uncomfortable doing it in front of my friend, I thought.
I said, "Suck it right."

I pulled the head back and grabbed his head, pushing him down, man handling him. After that he was like a pro dick sucker, giving the crazy head movements and all. I was stunned like, Wow didn't he say he was straight and now he's sucking my dick as if it was a piece of candy?"

I felt bad for my friend. He kept looking at us chill, and I could tell he wanted to sample some of this bangin blowjob, but the guy didn't like him, so he just watched and jerked off while I sat back and got sucked off.

What shocked me and my friend the most was that he started sucking faster, enjoying it, moaning and the whole nine.
I told him, "Ima bout to cum."

He kept on going letting me cum in that warm pretty mouth and swallowing it. I said to myself, He wanted that nut bad cause not one drip came out his mouth.
From now on Ima make my goal to turn these so called straight boys out and have my friend watch me turn them out. I kinda like the way it felt when he would look back at us with that look of excitement and want .... and me sitting there with that hard on dick fucking guys mouths