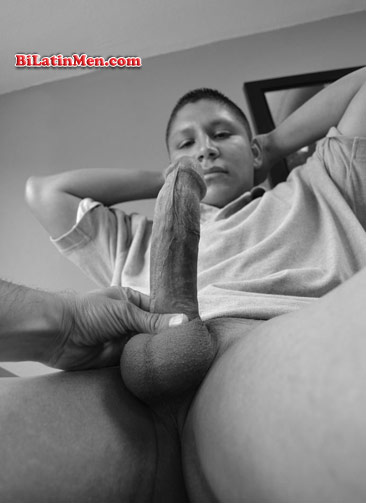 So this just happened to me last night. I'm 19, Latino, bottom, fem, real cute and sexy. I have a slim smooth body, light brown skin, blk hair to my shoulders...and a big phat JLo booty...lol.
Anyway, I'm in college and share an apartment with my friend. She has a boyfriend, and he is the most handsome man I've ever seen. He is 6'2", well built, big arms, fade, baby face, a piercing on his right ear and dresses in between pretty boy and thug.
He came over and she wasn't home. I answered the door, and I was wearing some booty shorts and a white t-shirt. He said "what's up" and I told him his girl wasn't home.
So he decided to chill and wait for her. I sat at my desk, doing my homework, and he was on the couch. I never really got close to him before because in my mind he was straight, but what happened next caught me off guard.
He came up behind me and asked what I was doing. I told him I was working on some math. He stood right behind me, put his hands on my shoulders and said, "Why don't you take a break from that?"
He started nibbling on my ear and it felt so good. I didn't know what to do. I was in shock. He turned me around and out of his pants was sticking out a big 9" uncut cock. It was huge! He said in his manly voice, "I'm sure you know what to do with it."
I told him I didn't think it was a good idea and that his girlfriend would get mad. He said, "I have a thing for fem boys. I love them. I've been wanting you since I first met you. Come on baby, suck it."
I got on my knees and took that cock like a champ. It was the most delicious cock I've ever had. I licked, sucked, kissed, stroked and everything else I could think of doing to it.
After about 10 minutes, he told me to get up, and he pulled my shirt off and my shorts. He grabbed my ass hard with both hands and started kissing me. He said, "Damn, I've been wanting to grab this ass for a while."
By this time I was completely gone, falling in love with him. I said, "It's all yours papi."
I wasn't even done saying that when he turned me around and bent me over. OMG he knows how to fuck. He started pounding with no mercy, calling me babe, baby, chula, saying I was his hyna from now on.
I didn't want him to stop, but we heard my friend coming into the apartment, and he got up quickly to lock my bedroom door. She knocked on my door and asked if he had stopped by. I said no that I hadn't seen him.
He slapped my ass and said I was bad. He was forced to spend the night there with me, and we made love all night long. He fucked me in all sorts of positions.
I know it makes me a puta, but I found my new man and possibly the man of my dreams.