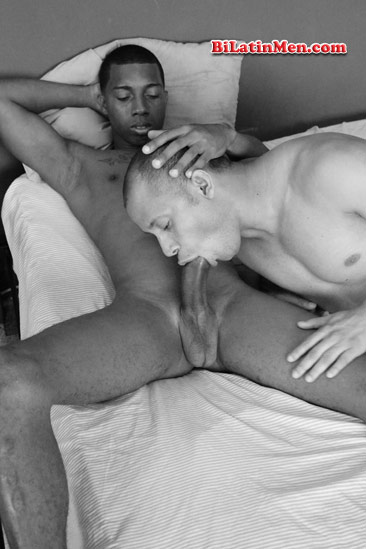 I have read a bunch of stories from NakedPapis, and there are some really good ones. Well, I think I should tell you one of my stories.
Let me tell you a little about me. I'm Mexican, I'm 5'5", black hair, brown eyes, and I'm not skinny or fat, oh and I'm 19.
Alright so let me tell you about my first time. So I know of this place where there are video booths and glory holes, and I usually go once in a while.
Well, one of those days I went into the booths and waited to suck some verga. I then heared the door close next to me, and I saw through the glory hole a nice looking guy. I saw him rubbing his crotch, and I put my fingers through and signaled him to let me suck his verga.
I saw a nice big, thick pito poke through the glory hole, and I grabbed that dick and began sucking it like a lollipop. I sucked his nice big mushroom head and could taste his sweet precum. I could hear him moan and groan, as I kept sucking him off.
I heared him say, "Ay, you wanna go to the big room?"
In this place they have regular booths and on the other side they have a bigger room with a big bench that looks like a bed. So I took my mouth from his dick and told him, "Yeah, let's go."
I followed him to one of the big rooms in the back. As soon as we locked the door, I got on my knees and unzipped his pants to suck that big piece of carne. He said, "You like that verga, don't you little bitch?"
"Yeah, Papi it's fucking good," I said.
While I kept sucking his pito, he started playing with my ass and told me, "You got a nice culo. Quieres que te meta mi verga en tu culito?" (Want me to put my dick in your little ass?)
In between sucking his cock, I told him, Yeah. I got up and began to take off my pants and underwear. then I took off his pants and underwear as well.
He turned me around and was like, "Damn, you got a nice culo. Can't wait to make you my lil bitch."
While he said that he was grabbing my ass and squeezing it and spreading my ass cheeks and then smacked my ass. I then told him, "You got a condom, pa?"
He's like, "Yeah."
He lubed up my ass and put on the condom. I laid down on my back on the bench with my legs on his shoulders. He then started to rub his cock on my ass, saying "Quieres este pito, quieres que te lo meta en tu culito?" (Do you want this dick, do you want me to put it in your little ass?)
I told him, "Yeah, pa give me that verga, but go slow it's my first time pa."
He was like "Alright, ima go nice and slow for you."
He rubbed his dick head against my ass, just teasing me and then slowly stuck his pito in my ass. It felt like a sharp pain, but it quickly turned into pleasure. He slowly got all of his big pito in my ass. He said, "Te gusta mi pito en tu culito?" (You like my dick in your little ass?)
I was moaning like a lil bitch and told him, "Yeah, Papi it's fucking big papi. Do me good pa, make me your little bitch."
He then started to slowly fucking my ass. I could feel his dick slide in and out of my ass, but he didn't take it all out. We were both groaning from the pleasure.
"Fuck me harder Papi, give me that dick."
He slowly started to fuck me faster. All I could do was moan and groan and tell him, "Yeah pa, fuck that hole, mmmmmmmmmm yeah Papi."
He then told me, "Tienes tu culito bien apretadito y bien Rico, mmmmmmm. Fuck yeah." (Your little asshole is real tight and real good.)

We fucked for about 20-30 minutes, changing positions and just fucking the time away. He started to fuck me faster and told me, "A donde quieres mi leche?" (Where do you want my milk?)
I quickly told him, "Damela en mi boca." (Give it to me in my mouth.)
He then pulled out and took the condom off, and his mecos squirt all over my face. I could feel his warm cum on my face and then I came all over the floor. He was like, "Damn, that was one of the best fucks I've had in a long time. Ima have to come back and see you."
We cleaned up and left.
I still haven't been able to see him yet, but when I do that will be another story.