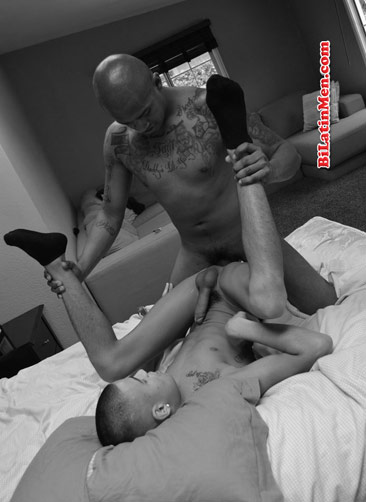 My name is Alex. This story is about my friend's uncle Jay. He was this guy who we all knew that fucked around, always trying to get guys to chill, smoke & drink.
One day as I was coming over to visit my friend, I knocked on the door. His uncle answered. First off his uncle Jay lived around the area. Second he was there with no shirt. So I asked, "Hey, is kevin here?"
He said, "Yea. He in his room," so I went inside the house.
As soon as I go in I smelled herb and said, "I smell it."
He smiled and said, "Want some?"

I replied, "Why not," and took the joint and started smoking, walking to my friend's room. I then knocked on his door. He said, "Hold on, Jay. Coming out."
I laughed and said, "Nah, it's alex."

He stood quiet for a minute and said, "I didn't know you were here. Where's my uncle?"
I said, "He's in the living room, and I just got here. Why?"
He said, "Give me a second and ill be there."
I said OK.
I walked back to the living room, and his uncle jay was sitting on the couch. He said, "Sit here," tapping the cushion near him with his hands, and I said, "Nah, I'ma sit here."
So I sat down on the opposite side from him. He then asked, "You know how to roll up?"
I said, "Yes, only blunts. Dont know how to roll joints."
He laughed and said, "I'll roll up."
Then my friend Kevin came out. We've been friends for a while. Never looked at him in anyway besides as a friend. His uncle then said, "You know what would be hot? If you two fucked here in front of me."

I said seriously, "Hell no. You crazy."
Then my friend said, "Yea man, that's not cool."
His uncle said to my friend, "Don't act innocent," and gave him this look.

My friend then said, "So I know I'm not," and said, "Alex is my peeps. I won't go there with him."
I was sitting there like WTF and I said, "Hey Kevin, no wonder that ass getting phat."
My friend Kevin is light skinned, Cuban, long hair, skinny body, 5ft 7 inches, but with a nice round shaped ass. He's about 19. I'm 20, light skin puerto rican, 5ft 5, short dark hair, dark eyes, slim body, couple of tats and straight.
Kevin then turned to me and said, "Oh, so you have been staring at my ass?"
I said, "Hey, I'm just going with the flow," with this smirk on my face.
His uncle then said, "See? Look, even your friend knows it."
I then stood up and went to the counter where the ashtray was so I could clip the joint
On my way back to my seat, I saw Kevin and his uncle whispering something. Kevin then walked to me and turned around, dropping his basketball shorts, showing me his pink asshole. I then said, "Fuck, that ass is nice," and started touching it. That didn't last long. My dick became hard as steel as it was poking through my jeans.
I said, "Fuck" and took my dick out. I spat on it and went in raw into that tight asshole. The uncle sat there and jerked off, watching me as I fucked this bitch nigga. He became a bitch once the dick was in, and it was turning me on. The more he cried and looked at me with pain and passion, the harder I kept ramming my dick in and out of his tight ass.
He then told me, "Don't come inside me."

As soon as he said that I came. I sneaky came inside him a little and pulled out and busted on his back. I could see his uncle cumming too, jerking off faster.
When I pulled out of his nephew's ass, cum squirting everywhere. Kevin then told me to put it back in so he could cum.
I said okay and put my half hard dick back in him. Soon after my dick got hard again and as I began to penetrate him again, he came and said, "Pull out slowly."
I did and he had this smile on his face. I smiled too and said, "You tell anyone, I'll fuck you up."