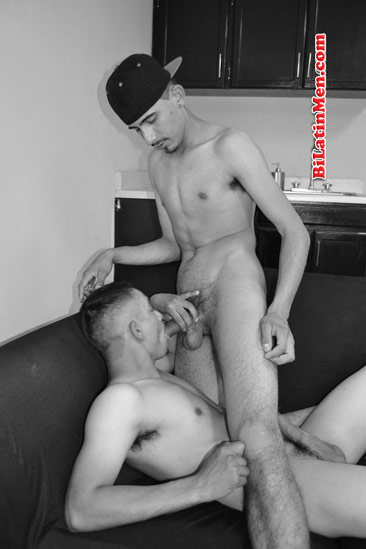 So dis story happened when I was up in washington....
Me and my cuzn where chillen at ma sis pad, drinking coronas when one of his homies hit him up dat we should go to da club later that night...
So when the time came we drove to the homie's pad. He said that another homie from a different city was gonna come along also cuz he was gonna drive us in his white avalanche...
My cuzn and his homies don't know about me being gay, but when the homie with the avalanche showed up bumping corridos and put his window down, I thought to myself, "Damn this foo is fucken fine." This foo wasn't too tall, probably like 5'6", 21, but was very fit with a fade, kinda tan, a tribal tattoo on his left shoulder...
Well, we got to the club, and he was dancing with girls and trying to get them to kick it with all of us after da club....
Well, they ended up getting a few numbers but none of the bitches where down. So we just kept on drinking at the homie's pad since there was nothing else to do....
We all ended up getting faded, and my cuzn and his homie knocked out, so I had no way of getting back to my sis pad. So the foo wit da avalnche asked if I wanted a ride, and I said, "Sure," since that was my only way of getting home...
On da way home we were driving, bumping corridos, and idk what it was, but he started talking about how the chicks left him horny cuz of all the ass rubbing on his dick back at the club. I was a lil too tipsy and told him that I sucked dick b4 but I just didn't want him to think nothing bad of it
I could tell he felt a lil weird, but b4 hitting my sis block, he asked if I was down to suck his dick but not tell anyone about it.
Fuck, I was sooo excited and nervous cuz I was like, "Damn this straight foo is fucken fine. He has a kid already and is actually gonna let me suck his dick." Ha ha ha
So he drove to a place not too far from the city where there is lots of open land and not many people around. So we got there and he kept the music on. I remember it was La de Cruz de Marijuana with los Dos Grandes de la Sierra.
He said in a low voice in Spanish, "Si me la mamas chingon wuey, te meto la verga por el culo tambien." (If you suck my dick good, fucker, I will put my dick in your ass too.)
Damn, I just couldn't wait to see his dick. When he pulled it out, I saw that it was about 8 inches long and was kind of thick with big ass low hanging balls. I went to grab it with my hand, and he pushed my head down to suck on his balls.
I started sucking one ball at a time slowly and jacking off his dick off at the same time. I was on my knees on stupid grass cuz he was standing outside the truck with the door open to hear the music still. After sucking his balls (that felt soo good and wet in my mouth), I grabbed his dick and stuck it down my throat. I went straight to deep throating that dick cuz it was soo good, and I could right away taste the pre cum every time I would come up from having it down my throat.
I could fell him holding my head and keeping it in place and face fucking me. Every time it felt better. While I was sucking it, he pulled away cuz he said he was gonna come and wasn't gonna be able to get ass if I kept up the good work...
So after a 2 min break, he sat me at the edge of the seat, and he got on top where u step up to go onto the car. He told me to turn around cuz, "Ayi iva a empesar lo bueno." (Because that's where the good stuff was gonna start.)
So he slowly stuck his dick up my ass and started fucking me slowly. After getting the hang of it, he started going so fast that I could feel his balls slapping against my ass and thighs. It felt soo good cuz he knew how to fuck really good....
After a good few pounds, he sat and told me to ride his dick. I faced him cuz I wanted to see his facial expressions lol
When I started sitting on his dick, I could see him closing his eyes and biting his lips, saying it was very tight. I started riding it for like 15 min straight before I felt him hug me really tight and was grabbing my ass, saying that he was gonna bust already...
He nutted inside me, saying that I was gonna take a souvenier back to Cali.... lol
Shortly after, he dropped me off and told me once again not to tell anyone.
Ad now I'm back here in Cali. But damn would I go back just to get some again from him. Cuz he did say if I ever went back and we're drinking again que there was a chance that there could be a round 2....