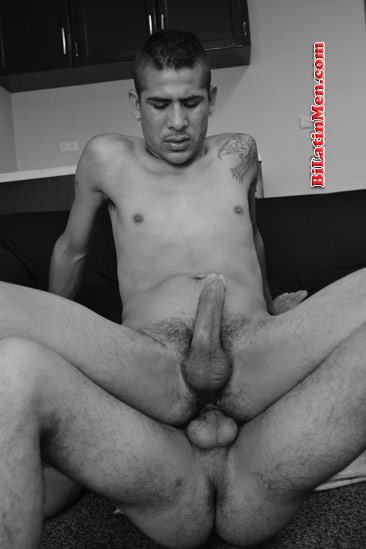 So this is the story of how I lost my virginity. The guy was 18, and so was I. I was in school still, kind of a geek, tall but chubby, and was barely starting to realize that I really wanted cock...
He was a hardcore thug ,moreno, about 5'10" and built with a baby face and a fat 8 inch uncut dick. We had known each other since we were little kids, and he would always come over to hang with my sister and me.
One night, after he had been at my house for a couple of hours just chillin and drinking, my sister decided that she wanted to go to bed early; so it was just me and him. We started talking about girls he fucked and if I was fooling around with anyone.
I said I wasn't and that I was a virgin.
So he asked "So...then what are you into? And you can tell me the truth I won't tell anyone...."
At the same moment he asked me this, I could also feel his hand making its way toward my ass. You see, we were sitting on a picnic bench, you know the kind with the slots you can stick your hand through. So I kinda jumped up and yelled, "What are you doing?!"
He kinda started laughing and got really close to me, "Just relax. I promise it will feel good."
He then took my hand and guided it to his crotch and started working it in a rubbing motion. I could feel him start to get hard. He started kissing my neck at the same time, and I began to rub harder.
He got really close to my ear, and I noticed we were breathing really hard.
"Take it out...suck it," I heard him say. I opened the button to his pants and slid my hand in. I could feel his dick still growing in my hand as I jacked him.
"Suck it," he sounded louder and pushed my head down to his dick. I put it in my mouth and started sucking.
"Naw man, you gotta make your mouth real wet," he said. "Make it so it slides in and out real smooth, and kiss my balls too."
I started to get better and better. I could tell cause his moaning got louder and louder, and he started pulling my hair a little. This went on for like 20 minutes before he asked, "Have you ever been fucked?"
I stopped sucking and froze. I had never been fucked before. I was scared, but I wanted to try it anyway.
"No...why?" I asked.
"Bend over," he replied. I did as I was told and bent over. I could hear him spit on his dick and start getting it wet.
"Just take a deep breath and relax," he said.
I could feel the head go in just barely, and he was already spitting on it some more. It went in slowly, inch by inch, opening me up. My legs started shaking when he was about halfway in.
"Mmmmm, is it starting to feel good for you? Just relax. Let ur ass get used to me being in there," he said.
The deeper he got, the more intense my legs started to shake. I could feel my dick starting to get hard too, and already I was dripping with precum.
"Now are you ready?" he asked. "Once I'm all the way in I wanna pound u."
He got to that part of my ass that still clenches right before it release. As soon as it did, he went for it. He took real nice long strokes in and out of my tight virgin hole.
I kept jacking off, the tip of my dick overflowing with precum. I had never felt anything like it before. It was like with every stroke I would feel the wave of almost orgasm.
"Take it, fucker. That hole is mine now. Take it deep," he would say as he fucked me.
Finally after about 20 more minutes of him pounding me in standing doggy, I was about to cum. He of course knew before I did.
"Mmmmmm, I can feel your ass getting tighter. Go ahead and cum. It'll feel great," he said.
When I came he pushed deep. With every wave of pleasure, I felt double what I was feeling. At this point I could barely stand and he noticed.
"You want me to cum? You want that shit?" he said.
He pulled out of myass, made me open my mouth and squirted what felt like a cup of nut in my mouth.
"Spit it out if you want. Or swallow it to remember me," he said.
You can assume what I did. After that, he spanked my ass said, "Good job," and went home.