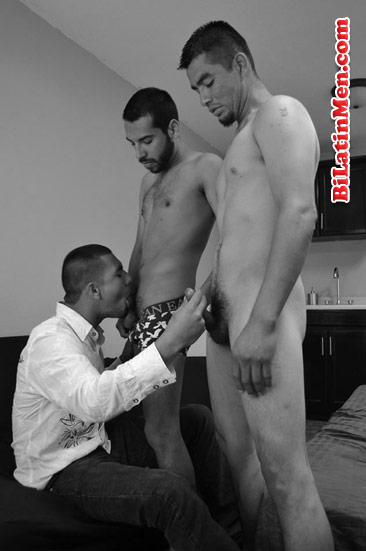 Hey guys, I got a lot of responses from my last story "At a kick back party," but I thought I would tell you about another one that happened 2 my recently.
A couple of my friends and I went to the beach for a chill night to go and drink. Well after a bottle and a 30 pack gone between the four of us, I decided to go for a walk while the couple in our group was making out. My other friend who is about 5'7", 150 lbs., a lil dark skin with a nice bubble ass followed me.
We had got to talking and randomly this foo told me he was horny and told me he wants 2 suck some dick. I joking went along with it, thinking he was just drunk and playing, so I told him to suck mine. Well, he didn't hesitate to get on his knees and starting pulling down my pants. He instantly fell in love with my thick 7 inch uncut dick.
Damn, this lil foo went to town on my dick. He sucked it like no other, deep throating it, licking and sucking from the tip to my balls. I got to face fucking him and it felt bomb. Eventually I was laying down on my back with him laying down sideways, and I got 2 start playing with his nice bubble ass. It felt so nice, firm and soft, so I put my finger in his tight lil culo. Soon I had 2 fingers in his ass, having him moan loud on the beach. I was glad no one was there 2 hear.
He told me he wanted my thick dick in him, so I started. I told him let me get that culo ready. So I started eating his nice culo out, teasing him with my tongue with him still sucking me off.
He couldn't take it no more. He was begging me to fuck him. So I got him doggy style and just started fucking him like a lil bitch, and he kept screaming for more and more. I was pulling his hair, spanking his ass, and I had him wanting more...
After about 20 mins of him just riding my dick, I was about to cum and told him, I'ma cum. He jumped off and opened his mouth and swallowed every drop of it.

After our lil session, we went into the water 2 get cleaned up and went back to our friends who were passed out on the beach...
We still mess around a lil.....