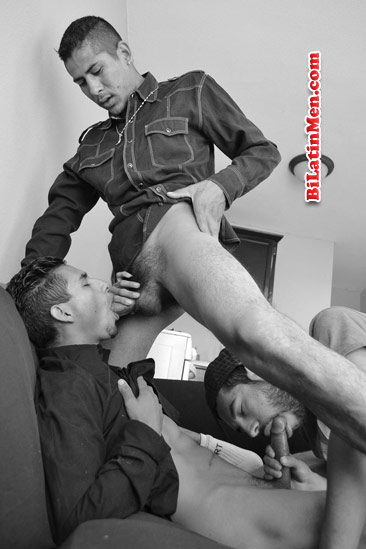 Hello Everyone. I have another story. I wrote "Frat Love." Just a recommendation, if you don't like my story, just stop reading and don't sent hateful emails. Thanks
So I took another trip with my fraternity, this time, to Las Vegas. This time I couldn't share the same bed with my buddy in Frat Love.
The first night he would grab his bulge and smile at me. A couple of times we went to the bathroom together and he would flash his soft cock at me. Soft he is about 4 inches but once hard it's about 7.5 and thick.
The next morning, we were changing in the room as we were getting ready to hit the pool. Our other frat brothers had gone down to the pool. He pulled down his shorts and underwear and asked if I could "help" him. So I laid on the bed as he approached the bed and fed me his soft cock as I laid on my stomach.
I loved licking his shaft and nibbling on the big mushroom head. I really like his cock as it is straight, light brown, and like I said, thick. As I sucked on the head I was playing with his balls. Unfortunately, we had to stop because one of our brothers came into the room. Luckily we heard him come in so we had time to compose ourselves.
Later that night we were getting ready to head out to gamble and hit a club. I walked over to him and gave him a condom. He looked at me, smiled and said, "what is this for?"
"So you can fuck me later," I responded.
So after the club we stayed at the casino and gambled a bit. By that time we were feeling good as we had been drinking and partying. Since we were gambling, most brothers had gone off to their favorite table and machines. It was weird how most brothers split in two or three. Anyways, he and I went our own way. I told him that I needed to go to the bathroom and that he should join me.
Once in the bathroom we hit the urinals. I hate Vegas because most casinos have partitions in between the urinals, so you can't have fun and look around. Since it was already like 4 am, there were not that many people. He stood back and waved his now hard cock and asked if I wanted some. I looked around and noticed that some of the stalls were bigger than others. I told him to follow me and so he did.
Even though I was buzzing, I was nervous as hell. Once in the stall he grabbed me and started making out. Damn, he has the softest lips. He began sucking on my neck which is my soft spot so I was in heaven. I started grabbing his hard cock which felt really hot. I dropped to my knees and took his cock in my mouth. He really liked it when I bit his shaft so I would bite it and then suck the head really good. He kept fucking my face which I didn't mind.
He then took out the condom which I had given him and smiled at me. I stood up, pulled down my pants and bent over. I heard him spit and he lubed his cock. It was tough putting it in since we didn't have that much lube. I couldn't even moan load as someone could have heard us, but to be honest, at that point I didn't care, I just wanted to feel him inside.
So he was all the way inside of me, and he just stood there. He would flex his cock and I could feel it move inside of me. Soon he started to pump but not fast as he didn't want to make noise. A couple of times I would moan and he would sush me and he would flush the toilette.
He would grab my shoulders and ram his thick cock. Damn, I can still remember how it felt. He fucked me good for about 20 minutes. He finally came, turned me around and we kissed some more.
After cleaning up we went back to gambling. That was the only day we got to fuck but there have been plenty of more times that he and I have fucked. More to cum!