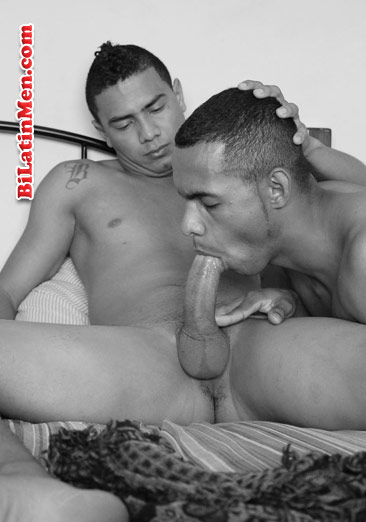 My name is Eduardo.
Well, this happened a few months ago. I'm 5'10", Mexican, light skinned 6.5 inch cock uncut thick, and I got a nice big ass.
I decided to go over to my cousin Monica's house one night. I told her, "I'ma stay over," but she was at a party so I was at my other cousin's house. He lives next door to us. We will call him "Danny" to keep his name anonymous.
Well, let me describe Danny. He is 23, around 6 ft tall, 7 inch cock thin uncut, and he is muscular. So since my cousin Monica wasn't home yet he said, "Spend the night at my house." I said, Fuck it. Btw my cousin is gay and we been messing around for 3 years now.
I went to his room, put on my basketball shorts and muscle shirt. He knocked out right away, but I saw him touching his cock. He was underwear and muscle shirt. Also it was during the summer so it was hot and no covers.
Anyway I saw his bulge growing, and I slowly moved closer to him. I put my fingers on his thighs and slowly moved up towards his bulge. Once I got to his bulge, I started rubbing it and he moved.
I got kind scared and stopped for a minute then I went back. I finally got to put my hand inside his underwear, and I was rubbing it. He was already hard. I wanted to suck it so bad but the reason I didn't was becuz my cousin has been wanting to stop fucking me.
I was rubbing him for a good 20 mins. I gave up. I said to myself, Fuck this, he isn't gunna wake up. So I pulled my hand out and closed my eyes to sleep when suddenly I felt his hand grab mine and put it on his dick. God, was I happy!
So I started rubbing it for 3 mins and then I pulled it all out and started sucking it. It tasted sooo damn good! I couldn't really deep throat much, but he made me deep throat his dick. He forced my head down. He didn't let me pull his dick out. I didn't want to stop him from doing anything becuz I don't want him to stop fucking me so I made myself his bitch lol.
I sucked his dick for a good 20 mins. I deep throated it for my first time. I even sucked his balls and licked his ass for my first time. He was grabbing my head and forcing me to lick his ass and suck his balls. I told him, Fuck me please. He said, Okay.
We had to stay quiet. It was 1 or 2 am and our aunts were next door. We could hear then laughing and talking.
Anyways he pulled out a condom and slid it on his nice cock and used his saliva as lube. He had my legs up on top of his shoulders and he was fucking me. He fucked me kinda slow, and I was saying, Harder please.
He said, I can't. They will hear us.
I said okay and when he had his dick all the way in my ass, I forced my ass deeper on his dick. In other words I was pushing myself on his dick and he pushed his dick even more inside me.
He said he was going to cum, and I said, Do it. Cum! You have a condom ,and he fucked me a little faster and came in the condom. I would have eaten his cum but for some reason cum tastes nasty to me.
I have been wanting to fuck again with him, but he always says, No, we need to stop :(
I try to do whatever just so we could fuck. I always tell him I will do whatever I haven't done to yuh even if I don't like doing it I'll do it and he laughs and says no.
I don't give up. I want him in me again ha ha.
Btw my cousin was my first everything ha ha He took my virginity and I fucked him, but he couldn't take it so I stopped and let him fuck me. First time we fucked was three years ago :)