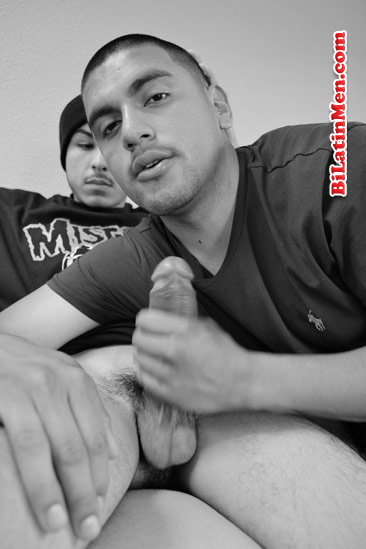 Alright, so one night my cousin Ale and her boyfriend Jose were fighting and I'm cool with Jose, so he came to stay at my house for a few days.
Jose was a gangster with big ass lips and a nice ass body.
The next morning he wanted to get in my pool so we went to my backyard and he was like, "A foo, you don't got no shorts I could use."
I had a gang of shorts, but I wanted to see him naked so I was like, "Nah foo, I don't, but fuck it we're both guys, let's just get in naked."
He laughed and was like, "Fuck it."
We got naked and when he took his boxers off, I couldn't stop staring at his 8 inch, thick ass pito. He noticed me staring and was like, "Ha ha, homie, lowkey you got a bomb ass body. Don't tell Ale foo, but I'm into guys."
I admitted to him that I was into guys too. Right then and there he walked up to me and told me to get on my knees and suck his throbbing dick. His thick ass pito tasted bomb as fuck and after a while he nutted all over my face.
I got up and when he saw my hard uncut dick he was like, "Damn homie, fuck me yeah."
I stuck my hard ass dick in his big round ass, and he moaned and screamed, "Ayyye papi asi asi." (Oh daddy, like that, like that.)
I had never seen him like this. He was a masculine tatted gangster, but right now he was my bitch. I was grabbing his ass real hard and fucking the shit out of his little asshole.
He was begging and moaning for more, backing his nice ass on to my hard ass dick. Finally I came all over his face. He licked up all the cum and we just laid outside, tired as fuck.
We continued fucking over the 5 days he stayed with me until he went back to my cousin Ale. We still fuck around all the time and I just can't get enough of his bomb ass dick.
Please keep me anonymous!