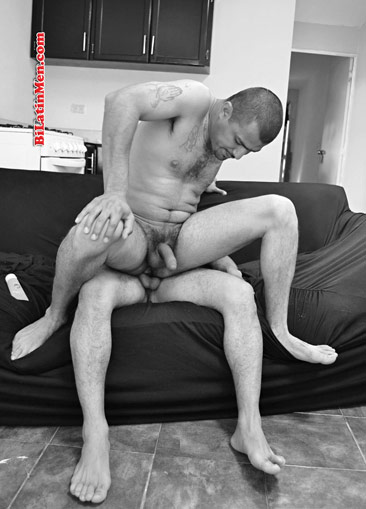 True Story. This happened about two years ago. I'm in a fraternity (LUCKY me!!). About me: I'm Latino, 5'7", about 200 lbs, not too big and not small either. I have black hair, black eyes, and mostly bottom. Back to my story.
As a Fraternity, we took a trip to Miami. I had a crush on one of my frat bros. He was 23 years old, Latino, about 5'7" as well and probably 170 lbs. He has very sexy lips and a hot ass. I thought he was very straight until this trip. We had to share a bed (I wasn't mad, lol).
So at night we decided to hit up a few clubs and did our thing. Well, when we got back to our room, some other frat bros were talking, some watching TV and others drinking. I knew he was buzzed, so I started playing footsies with him. He didn't stop me, so I continued. Then I really took a risk and rubbed his stomach which he didn't stop me either. At this point the other guys had gone to their rooms and our other two brothers were in their own bed. The TV was off and so were the lights.
I then began grabbing his bulge and found a very nice and thick 7.5 inch cock. It turned me on because he was so thin yet had a big cock. We started making out as I was playing with his hot cock.
He slowly pushed down my head, to which I didn't resist. I was soon bobbing up and down his thick cock. I wasn't too worried about the other guys being in the same room since they had been drinking and I knew that they were passed out. I kept sucking on the big head, and he kept rubbing my head to continue. I licked his hairless ball sack and sucked on his balls. I started to get close to his ass, but he stopped me.
I couldn't believe that he was straight, but here I was sucking on his yummy cock. After about 30 mins of me sucking him, he blew his load in my eager mouth which I happily swallowed. This had been the first time that I had swallowed cum and I loved his!
The next morning he acted like nothing happened. But lucky me, we had other great adventures which maybe I' ll write about...
Hit me up, Im in SoCal.
penet8t@yahoo.com