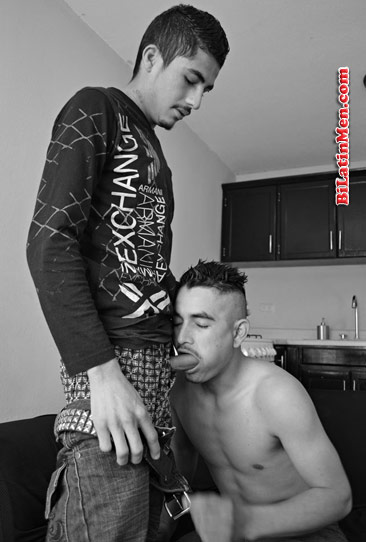 Hey guys! My name is Jr. When I was about 18, years old I was staying with my primo because my mom and dad got a divorce. So I moved in with my primo Jessie and My Tia and his brother Philippe. I'm About 5'9", nice body, light skinned and brown eyes. My Primo was FINE! Mexican 21, Kinda Short, Tattoos, blue eyes and a sexy ass body.
He used to always have girls over, and I would always hear them having sex but I wanted him.
One time he was getting out of the pool and his shorts fell. I saw his big fat Pinga. It had to be like 7 inches soft and uncut. I instantly got hard and had to run inside so nobody saw my hard dick.
So one day when he got home from a party, I told him I would get the shower ready for him cuz he was drunk. So I did. I was bending over to turn on the shower, and he came in. I didn't hear him come in. He slapped my ass and said "Damn." I was kinda scared cuz i couldn't believe this was happening.
I turned around and saw that he was wearing his black and blue boxer briefs and he was fully hard. It was coming out of the side, and I could see the big fat thick head of his dick popping out. I tried to walk out, but he stood in front of the door and kissed me and started rubbing my ass. He bit my neck and told me, "I'ma Make u my bitch for tonight."
I loved this aggressiveness about him. He put me on my knees and put his dick in my mouth. I was gagging and choking and begging for more. He slapped me and told me to shut up because my tia was home. I loved when he got rough with me.
He stripped my clothes off of me and put me in the shower and then he got in. He grabbed the soap and put some on his dick and he put his dick in me. I yelled. It hurt so bad, but I wanted more.
He covered my mouth and told me, "You better shut the fuck up before we get caught." He started fucking me harder, kissing my neck and grabbing my dick. I was screaming so loud and moaning. He didn't even care no more. He just kept fucking me harder and harder.
Finally he said, "Ima nut in you. I want u to have my baby."
That tuned me on so much because it made me feel like I was his bitch. Then he started to cum in me and he put his dick in me, so deep I almost cried.
To this day we still fuck around and I'm 21 now. He's 24. I love getting fucked by him and taking his nut deep in me. He tells me he loves fucking me cuz i can't get prego so he can bust in me every time.

That's my story. :) DONT PUT MY EMAIL PLEASE