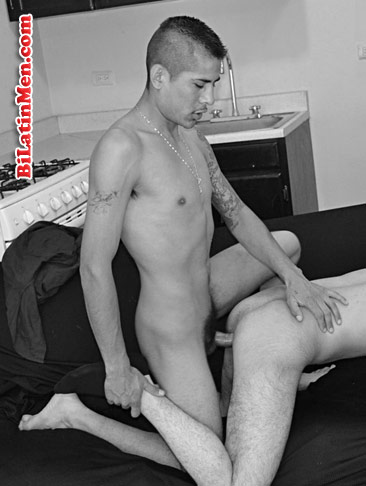 Will this happened between my stepbrother and I when I was 18 years old and he was 22 years old.
Let me describe to yall my stepbrother. He's tall about 6'3" with a very hot hard body. He works out like every day. I melt when I see him. Well, anyways he's light skinned with these amazing hazel eyes that make me want him more and a huge 9 an 1/2 inche pito (dick).
Well, it all happened when my stepbrother came back home to stay with us. He had come back from a long vacation. I was 18 at the time. Now I'm 19 and he's 23. Now he had a feeling that I was gay, but he wasn't sure of it cuz he would always be slapping me on my ass to see if i would say anything.
But back to my story. Well, one night my parents went out to eat, and I was all alone with my stepbrother. He was in the living room, watching TV, wearing nothing but some basketball shorts that turned me on a lot cuz I was able to see everything of him n he was also wearing a muscle shirt, showing off his nice big strong arms.
So then I noticed him stoking his cock as I walked slowly to him, but I keep quiet so he wouldn't hear me. When I 1st saw his dick, I melted. Damn, it was so big n huge. My mouth got very watery. I just wanted to go down on him n suck him dry.
So my stepbrother saw me through the living room window, staring at him, and he stood up, turned around with his dick in his hand, and he told me, "I knew it. I knew u was a fucken fagget."
Then he told me, "I won't tell our parents if u get down here and suck this big pito. I know u want it, little bitch."
So I did as he told me cuz I didn't want my parents to know about me. So I sucked him like about 3 minutes. I could feel his dick growing n growing inside my mouth as I kept sucking him, loving every inch of his meat inside of me. I heard him moaning n telling me that it felt so good...
Then he pulled me off his dick, took off my boxers n started pushing his big uncut cock in me. It hurt ass hell. I was moaning so much that he push me down the couch so no one could hear me.
I loved the way his pitote was stretching my virgin asshole to its limits. He lovde how tight my culo was. He told me that I was so tight, tighter than a girl and that I was his bitch from now on and that my ass was only his. Having him say that turned me on even more.
There I was riding his dick so hard. He was close to cumming. He fucked me 4 about 2 hours. It hurt a lot, but I love every pain of it...
So then he came all inside of me like 5 loads all inside me. Then he made me suck him some more until he came again.
We still miss around with each, but man was that night something....