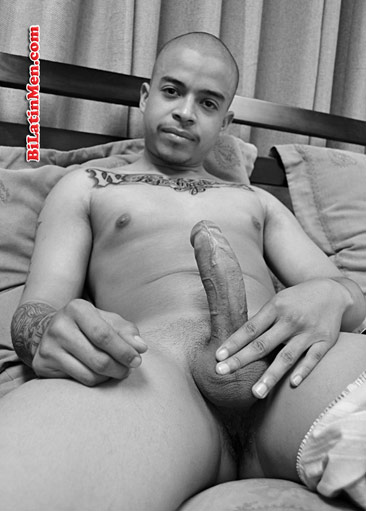 Well This Happened In the Beginning of the Year 2012. January To Be Exact.
Well, Let Me Describe Myself. I'm 6'2", Latino with An Average Body & A 7.5 Inch Dick. At the time, I Was Bi Curious And A Virgin When It Came To Guys.
Well, I Was Visiting Mi Abuelita (Grandma) For A Week And She Worked Pretty Much All Day, So I Always Had The House To Myself.
There Was This Guy So Daaaaaaamn Fine That I Met On Facebook. We Will Call Him "Silent" To Protect The Not So Innocent And Because He Is The Quiet Type. He Is 6 ft, Lite Skinned Mexican, with a 6 Inch Uncut Dick and Slim Body.
I Met Up With Him And Took Him Back To Mi Abuelita's House. When We Got There, We Went Into My Room And Sat On The Big Comfy Bed And We Just Sat And Talked. As We Talked, I Decided To Take Matter Into My Own Hands And I Reached My Hand Over To His And Started Rubbing It And I Leaned In For A Kiss.
Since He Knew It Was My First Time, He Kind Of Moved Away. But I Didn't Care. I Kissed On His Neck And His Lips. He Finally Caved In And Started Adding Tongue And Biting My Lip. Daaaaaamn! He Was Such A Good Kisser And That Turned Me On So Dam Bad!
He Started To Kiss And Bite On My Neck, And I Started To Take Off His Shirt. And He Did The Same To Me. As I Laid On The Bed He Got On Top Of Me, Grinding His Ass On My Dick As We Made Out. Pretty Much Dry Humpin.
Then He Started Moving Down, Kissing, Licking and Biting Mi Cuerpo ;) (Body) He Kept Moving Down More And More, Getting To My Jeans And Started To Undo My Belt And My Pants. As He Got My Pants, He Unbuttoned And Unzipped Me, and then He Pulled Down My Pants, Revealing My 7.5 Hard UnCut Dick. He Started To Rub The Tip With His Fingers. The Next Thing I Know His Warm Mouth Was Going Up And Down On My Dick! Daaaaaam It Felt Bomb!
I Started Moaning, Pushing His Head Down So That My Dick Could Go Deeper And Deeper In His Throat! Then He Started Swirling His Tongue On the Tip. Makin Me Wet! Soooo Then I Returned The Favor. His Dick Was About 6 inches Uncut, And He Said It Was Good For My First Time.
Daaaaaaamn His Dick Tasted Good! I Sucked On His Big Nice Balls And Kept Switching From His Base To All Of It! It Got To The Point Where We Were 69 N Daaaaam That Was Bomb!!! After About 30 Mins Of Suckin On Each Other, He Told Me He Wanted My Dick Inside Him.
So He Slid The Condom Around My Fat Hard Cock. He Added Sum Lubricant On My dick And Sum on His Ass And Lowered Down With My Dick entering His Tite Ass! He Rode My Dick for A Good 30 Mins. He Screamed And Moaned.
Then My Dick Slipped Out. He Had A Quick 1 min Break. Then I Put Him In The Doggy style Position And Fucked Him For A Good 30 More Minutes. As He Moaned And Screamed, I Felt My Balls Tightening Up and Next Thing I Knew I Busted 5 Nuts All At Once! Daaaaaaam His Ass Felt So Good.
But We Still Weren't Done. I Wanted Him In me Too, So He Had So many Ways To Tease My Ass With His Dick. But When He Got It In, It Hurt Like A Bitch! After A Good 5 Mins, It Started To Please Me And He Fucked Me For A Good Hour And Busted 3 Nuts. Daaaaaam That Was Sooooo goood!
We Met Up Again every day That Week, And I Stayed An Extra Week. So That week We Hooked Up too. But We Didn't Fuck. We Just Sucked Each Other Up. We're Now Dating, Trying To Plan Another Time For Me To Go Out There!
Thanx for Reading My story.