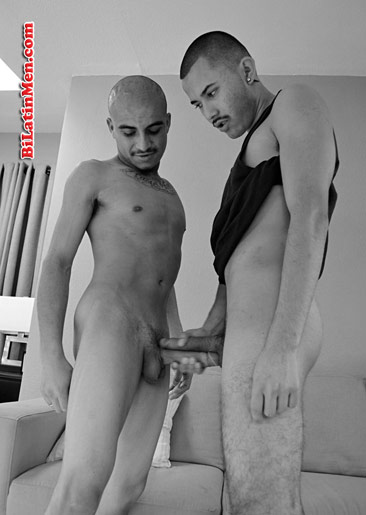 This is my story about me (Carlos) and my best friend (Omar) for NakedPapis.com
Alright, one time me and my friend Omar we were walking to the store. We saw a couple guys standing in the corner by the store and their names were Chris, Max and Jimmy.
They were looking at us and they even called us to come over where they were standing at. They asked me and my friend Omar if we wanted to make some money today. Me and my friend Omar, we were like thinking about it for a lil bit and we told them, "Sure, but what do we have to do?"
They (chris, max and jimmy) said they wanted to suck our dicks. Omar and I talked about it amongst ourselves, then we decided "Yeah" because we needed the money.
When we got to Jimmy's house which was close by, right away we all started smoking weed and fucking doggy style cuz we were all high. Then I let my friend Omar suck my dick too. I didn't know he was that way, but I was high and feeling good, so fuck it.
At the same time that my homie Omar was sucking my pito, one of the guys (I believe it was max) was fingering my tight asshole. By sticking his fingers in my tight hairy culo, he made me cum. He even licked my cum, and he put it in my mouth with his mouth.
Then we all five were fucking each other, everyone taking turns fucking or getting fucked. We kept switching partners and mixing it up, so all those dicks were getting ass juices on them from everybody.
It was hot and raw, but Omar and I were doing it all just for the money.
So next it was my friend Omar's turn to cum, but he got some help from the Max. Max grabbed his dick fucking hard and started to jerk off Omar. Max asked Omar to cum all over him, so Omar spurted his cum all over Max's face and bald head. The cum was dripping all over him.
But that was not all Chris did. Chris also took this one dildo (it was like a 10 inch dildo) and he started to shove it into Max's culo. Max whimpered like a little bitch, with cum dripping off of him like a pig, but Chris kept fucking him.
I also wanted to try the dildo, so I grabbed the dildo from the other end and I stick it up my ass. Max and I, we were using the dildo on each other so we were both moaning so hard, like perras in heat.
Also it was hot that Chris, Max, and Jimmy had big dicks. My friend Omar was moaning so hard when they fucked him. Omar was enjoying getting fucked by Chris at the same as I was getting fucked by Jimmy. They fucked us hard like they were turned on fucking girls.
They fuck us hard and sexy. Then they started licking our asshole and licking our balls and playing with our balls, jerking us off. Finally made us cum 2 times.
We had so much fun. We really did like it a lot. Even though we are straight, we are even down to do it again sum time cuz in the end the money really does pay off.