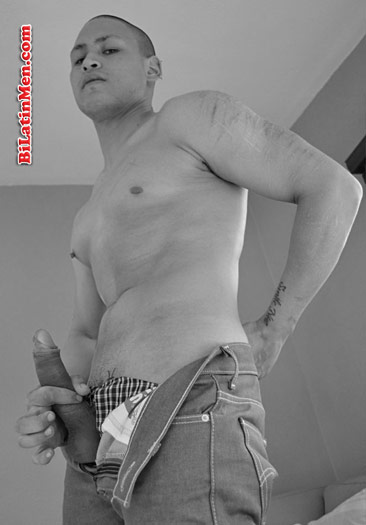 One night me and my brother in-law were getting wasted. Anyways, his name is "DIEGO." He's about 5'9", bald head. He's half white, half Mexican, has a lot of tattoos and dresses like a Cholo.
Well him and my sister got into this huge fight, so I offered to take him home. She stayed at his grandparents, and me and him took off.
When we got to his house, he started to get undressed. When he took of his pants, all he had on were basketball shorts, long white socks and a wife beater. When he laid down on the couch, I started rubbing on his chest, rubbed his ass, then I pulled down his shorts and started eating his butthole out. He started moaning, so I stuck my finger in.
I started kissing his ass cheeks slowly and moved down to his legs. I went all the way down his white socks to his sweaty tip of his toes. He then turned around with a hard on. I started sucking his dick. It was uncut, about 7 inches long. I started sucking him off.
I was going at it for about 15 minutes. I started fingering his ass hole. We didn't even have time to take his socks and boxers off. His legs were in the air as all of this was happening. Then all of the sudden, I felt his asshole throbbing. Then he busted a hot fat load in my mouth, and it was the best I've ever had.