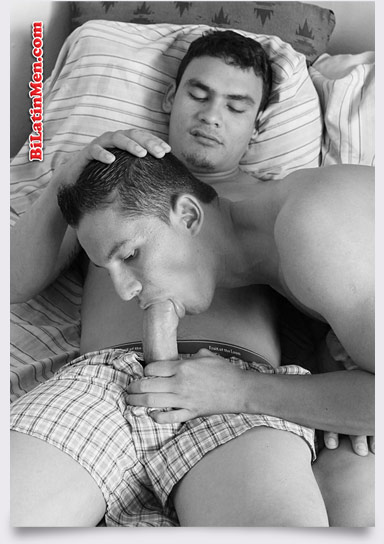 Well when I was a teenager, I was the type of boy who would always be alone and by myself.
I really didn't have many friends, cus I would always move around, so there was this one time I finally set down and started living with my uncle. He was really cool, and I had 2 other little cuzins that were his kids. My uncle at the time was around 28-30. He was a good looking, and around that age was when I started to check out guys and wonder how it felt to be with one.
My uncle would always buy me shit cus I didn't have a dad, and he would play with me a lot. There was this one time I walked in on him while he was taking a piss, and damn I got really scared cause I saw his dick and it wasn't even hard but it was really big, like 10 inches long. So at night I would wonder a lot about his big dick.
There was this one time when he got home from a bar, and he was all dressed up in his long sleeve and dressy pants. He looked so fine, and hood at the same time, with his tats, and all edged up. By then I was 18, and I went into his room. I knew he was drunk so I decided to walk in wearing nothing but my white tight boxer briefs.
I asked him if everything was ok. (His wife wasn't there, she worked over night) he said yea but he was kinda mad cus he had seen my tia (my aunt's sister) at the bar he had gone to and he didn't get to pick up any hoes to fuck with.
Fight there and then I knew this was my chance. And let me tell you, back then my uncle had a 6 pack, he looked really fresh and young the way he talked dirty always turned me on. His face was really cute and he was very masculine but liked to dressed up. And even tough now I am older, when I was younger I started to play basketball so that's when I started to look more fit, and developed a bubble butt ha ha
Back to my story, niggas. So my uncle was there, and then I sat him down on his bed. I told him to lay down and that I was gonna take his boots off for him. So I decided to bend over in my white boxers to take his boots off and I knew he was looking at my ass.
Then I told him I was gonna turn on the TV for him and when I did I noticed next to the TV there was a porn dvd movie.
I told him, "Hey, u want me to put this on for you?" and laughed.
And he said, "Yea sure."
I was like, "Alright, I guess since u didn't get to bust a nut," and I joked about it.
Then when he was laying there in his bed, I decided to crawl in it and grabbed the control (which was in the bed). So when I got in the bed I leaned over him to get the control and rubbed my dick against his dick and basically get on top of him but I went a lil higher so that his dick would end up by my ass (like when you ride someone) and when I was about to get off he said, "Ride it, mijo."
So fuck ... right there and then I didn't think about it twice. I unzipped his pants and he started to fuck me mouth real hard. At times I felt like taking it out of my mouth because my jaw would hurt, but he wouldn't let me. He would hold my entire head real close to his dick. It was really hot. The porn movie was playing, and he would fuck my mouth really hard and his dick would be all wet. It was like 9 inches long, and I was sucking a player's dick. My uncle had fucked around with many women, and I was probably his first guy. It felt soooo good. Then he bent me over and told me, "Take it all the way in for daddy."
And he fucked me like NO1. After that night, it never happened again. He would kinda treat me with a more distant attitude. I guess he was scared I would tell my tia.
Now there is this guy at work that I am trying to seduce. He is hood and real fine. I like my dudes straight, good bod, and this nigga at work looks fucking fine. I keep looking at him to give him hints, and I make it really obvious sometimes cause I pass next to him and look at him. He always catches me looking, but doesn't do anything, but hey today when I passed by he said, "Hey dude, where you going?" :) ha ha ha
That made my nigh., I guess maybe soon there might be another story I will be able to tell ya about? Let's see where this leads to, but fuck he is so fine, guys.
I am Mex, very good looking. Feel free to write to me to give me some advice on this guy lol I think he had a baby, but fuk it! lol write to me and send a pic of you :) The name is Steven :) hasta pronto! ohhh and if you a hood nigga, I'll probably want to suck your dick, so yea tats a + lol